RV TRAVELING ON I-80: TOP THINGS TO DO
Interstate 80 is an iconic highway for travelers of all kinds, especially RVers. This route was included among the original interstate systems in the 1950s and now goes right across the middle of the United States, from coast to coast. San Francisco serves as the West Coast endpoint, and Teaneck, New Jersey, is the East Coast endpoint, just a short distance from New York City. The interstate crosses through 11 states and many major cities. An RV road trip on I-80 gives you a cross-section of America that includes both coasts as well as the Midwest, with many interesting things to see along the way.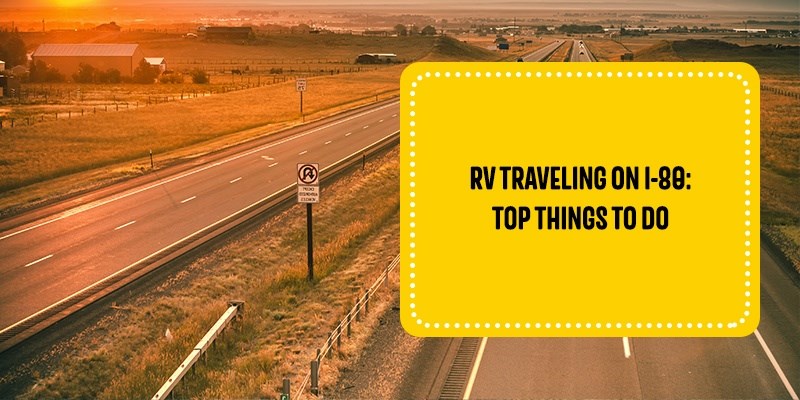 RV TRAVELING ON I-80: TOP THINGS TO DO
A road trip on I-80 provides a little something for everyone. Whether you enjoy the amenities and culture of the big cities, parks and natural scenery, or quirky rural road stops, you will find it all here. If you are thinking of an I-80 road trip, here are some of the best things to check out, from east to west and state by state, during your trip.
1. NEW JERSEY
Teaneck, New Jersey is the terminus of I-80 on the east end, and you can explore this charming little township, or venture toward the Atlantic Ocean or New York City — both of which are only about 10 miles from Teaneck. Spend a day at the coastal beaches, explore all the classic sights of the Big Apple or simply start your westward journey here.
On your way out of New Jersey, stop by Paterson Great Falls National Historic Park, one of the best national parks along I-80, where nature and history meet. Explore the waterfalls and the site of the nation's first planned industrial town.
2. PENNSYLVANIA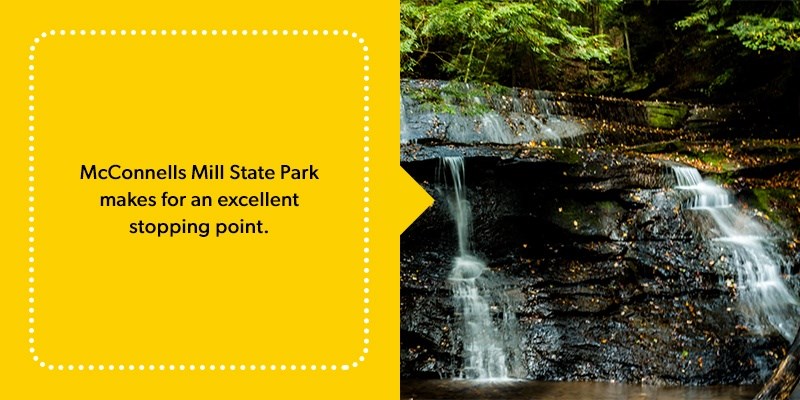 I-80 runs straight across the upper portion of Pennsylvania and has many breathtaking views along its route. Watch for scenic overlooks along the gorges, where you can see beautiful rock outcroppings and waterfalls. McConnells Mill State Park makes for an excellent stopping point. Experience thundering waterfalls, scenic hiking trails and a historic gristmill.
You may also want to keep an eye out for the many covered bridges in the area. You will not pass through them on the freeway, but many are just off of the main route and easy to find.
3. OHIO
In Ohio, the scenic beauty continues, and you will want to stop at Cuyahoga Valley State Park, for the hiking, biking and picnicking opportunities. The park features gorgeous forested areas, waterfalls and lots of wildflowers and wildlife. Take the train for a memorable way to see the scenery.
Another great Ohio I-80 stop is the Marblehead Lighthouse on Lake Erie. Climb to the top to enjoy the sweeping views of the lake from the oldest running lighthouse on the Great Lakes. The surrounding park has a gift shop, picnic area and more to explore, too.
4. INDIANA
Indiana offers up a few interesting things to see along I-80. It is here you will find the RV & Motorhome Hall of Fame — a fun stop for anyone on an RV road trip across America. View the large collection of vintage campers and trailers and learn all about life on the road, as well as restoring and maintaining your own motorhome or camper. While in Indiana, you can also stop by the King of Pop's childhood home. Michael Jackson grew up in Gary, IN, just outside of Chicago. While you cannot go inside, you can take a picture in front of the home to add to your epic road trip scrapbook.
5. ILLINOIS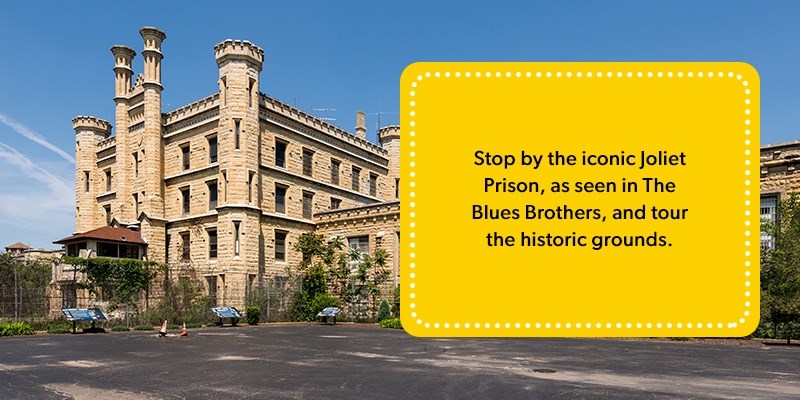 Once in Illinois, I-80 comes close to the outskirts of Chicago, but it does not go into the city. If you want to take a detour and day trip into Chicago, you can enjoy all the museums and other attractions there. Otherwise, there are plenty of I-80 things to do in Illinois. Stop by the iconic Joliet Prison, as seen in The Blues Brothers, and tour the historic grounds. You can also go hiking in beautiful and historic Starved Rock State Park, named for a Native American legend. It features gorgeous river bluffs.
6. IOWA
Make a day of stopping in Des Moines, Iowa — one of the largest cities on I-80 so far. Visit a museum, spend time at the farmers' market or a park, and enjoy a delicious meal at one of the city's many restaurants. For families with kids, be sure to check out both the Heritage Carousel and Adventureland Park for extra fun. This Iowa city is full of Midwestern charm and lots of family-friendly things to do.
7. NEBRASKA
Be sure to visit Omaha, Nebraska, for more museums, parks and vibrant city life. You will not want to miss the Old Market neighborhood for its charming brick streets, interesting shops and restaurants, and several nearby museums. There is a lot to enjoy in this amazing city.
In Kearney, NE, stop by the Classic Car Collection, where you can view hundreds of gorgeous, fully restored vintage and classic cars, as well as museum exhibits on the subject. It is a great stop for any auto enthusiast.
8. WYOMING
You are truly in the American West when you reach Wyoming, known for its wide-open spaces. Stop by historic Fort Bridger to see re-creations of the original Oregon Trail trading post and learn about its history. You might also want to visit Bear River State Park for beautiful views of the Wyoming landscape and the chance to see elk and bison, as well as other wildlife.
9. UTAH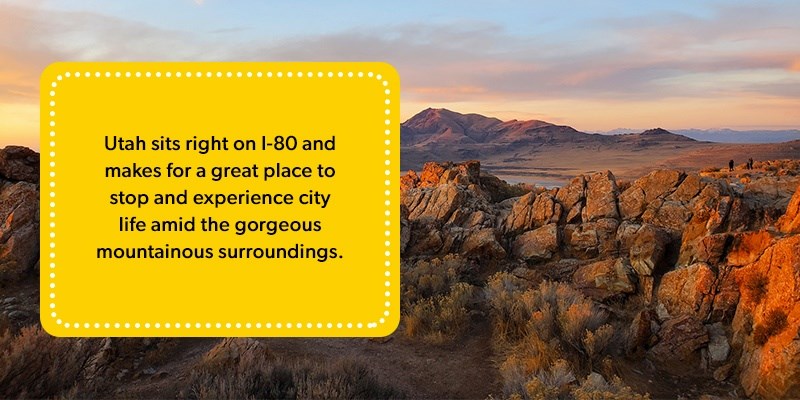 Salt Lake City, Utah sits right on I-80 and makes for a great place to stop and experience city life amid the gorgeous mountainous surroundings. Go hiking, biking or skiing, or experience the museums, parks and other attractions in this beautiful city.
10. NEVADA
One of the most famous I-80 attractions in Nevada is the Reno arch. Stop here to take a quick picture and enjoy all the neon lights of the casinos. Try your hand at the slots and games in Reno, or enjoy the museums and parks of the "Biggest Little City."
You can also immerse yourself in cowboy culture at the Western Folklife Center in Elko, NV. Here, you will find exhibits and events all about the history and culture of the American West.
11. CALIFORNIA
At the end of your interstate 80 travel, you will reach California. Stop by the Empire Mine State Historic Park, where you can see one of the richest and largest California gold mines, as well as a cool scale replica and lots to do in the surrounding park.
You will also pass through the capital city of Sacramento, with many museums and other interesting sights on your way to the end of I-80 in San Francisco. Spend some time in this iconic American city to see the Golden Gate Bridge, Alcatraz, the Painted Ladies, the Pacific Ocean and so much more.
NEED A PLACE TO STAY ALONG THE WAY?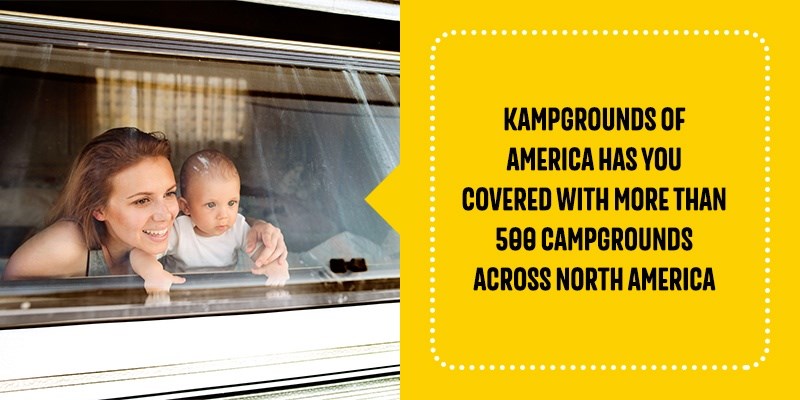 With so many fun and interesting attractions along I-80, you will never be at a loss for what to do along this road trip. However, in between all the sightseeing, you will need a place to stay. Kampgrounds of America has you covered with more than 500 campgrounds across North America and many options along I-80.
Use our handy trip planner to find KOA Campgrounds that fit into your itinerary. The KOA Rewards Program can make your stay even more enjoyable, with discounts, rewards points and more members-only perks — check it out today!
Article Courtesy of: https://koa.com/blog/rv-traveling-on-i-80-cross-country-road-trip/