Patricia Winters and her family decided to take advantage of her husband's remote work arrangement, so they bought a camper. In June, they left their Annapolis, Md., home for a trip out West, with plans to be back in time for school.
"At the end of July, our school district decided to go virtual, so I said, 'I guess we can keep going,' " Ms. Winters said. The family of five has logged 11,000 miles visiting 16 states and 14 national parks. But they weren't fully prepared for the realities of school on the road, or "roadschooling," as some families call it.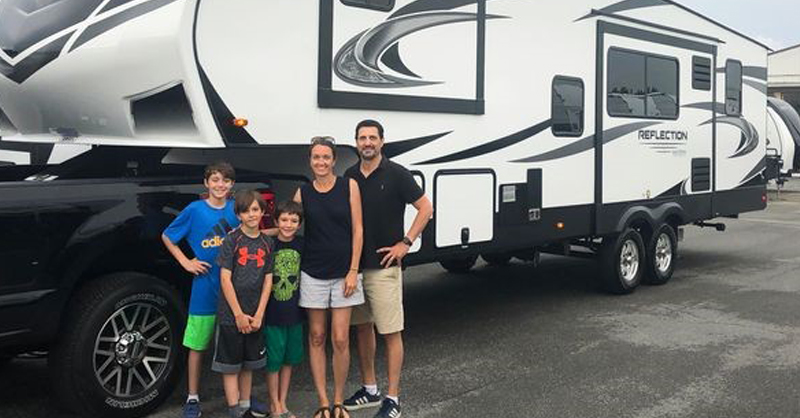 Many are taking the rare opportunity of remote work and remote learning to see the country—or at least get out of the house for a while. As the Winters family learned, logging into virtual school while on the road poses tech challenges.
Ms. Winters brought along a Chromebook and two MacBook Pro laptops but has found campground Wi-Fi to be spotty. Her three boys, ages 8, 10 and 12, are each expected to attend virtual school for six hours, including four hours of live in-class instruction and a two-hour lunch break.
She said the tech woes aren't always on her end. Other students who aren't on the road struggle to hear the teachers, she said, and the teachers often spend a lot of time during class troubleshooting tech problems.
"We try our best to pick campgrounds that have good Wi-Fi or cell service," Ms. Winters said. "You still never know until you get there."
They bought a Verizon MiFi hot spot but had to stay a week longer than planned in Coeur d'Alene, Idaho, because Verizon couldn't ship it to them right away. Since buying the hot spot, Ms. Alexander and her son have had better luck maintaining a stable internet connection. And the family's outdoor experiences have also improved. After work and school, they have been splashing in waterfalls in Glacier National Park, riding ATVs in Grand Teton National Park and fishing in Montana.
Even if her son's district reopens for in-person learning this school year, she said they won't go back as long as she is allowed to work remotely. "There's no point in going home," she said. "This is too much fun."
Check out the full article from the Wall Street Journal here.
Article Courtesy of: https://www.rvia.org/news-insights/roadschooling-101-families-make-remote-learning-work-rv