[vc_row][vc_column][vc_column_text]The KOA Monthly Research Report – September Edition projects that 10.6 million households – 25% of active camping households – anticipate camping in September. Looking at the fall season as whole, 25 million camping households plan to go 'leaf peeping.' Following the April release of Kampgrounds of America's (KOA) annual North American Camping Report, ongoing monthly research points to continued growth in camping interest.
Across the United States, 54% of campers indicate that they are planning a camping trip to explore the changing colors of fall foliage. The most popular locations for these leaf peeping trips include Vermont, New York and Colorado
"Over the last few years we've seen a marked increase in the number of fall campers," said Toby O'Rourke, president and CEO of Kampgrounds of America. "Between the scenery and the weather, it's a wonderful time to get out and explore. Last year, as COVID restrictions loosened in many areas, we saw a dramatic increase in campers – between early September and the end of the year registration revenues were up more than 25%."
While the outlook for fall is strong, COVID is still having an effect on campers. Nearly 24% of campers say that they have cancelled a planned fall camping trip due to COVID concerns, up slightly from August. Conversely, nearly 1-in-4 campers say they plan on taking more camping trips, camping more nights or replacing other trips with camping trips due to the pandemic. New international restrictions are prompting 16% of campers to say they plan to replace a European vacation with a fall camping trip.
"The effects of COVID continue to be felt in every industry and camping is no different," said O'Rourke. "What's definitely promising for now and future is that camping continues to be a really trusted form of travel. Our research tells us that campers consider camping a safe form of travel. We've seen that first-hand throughout our business and camper feedback."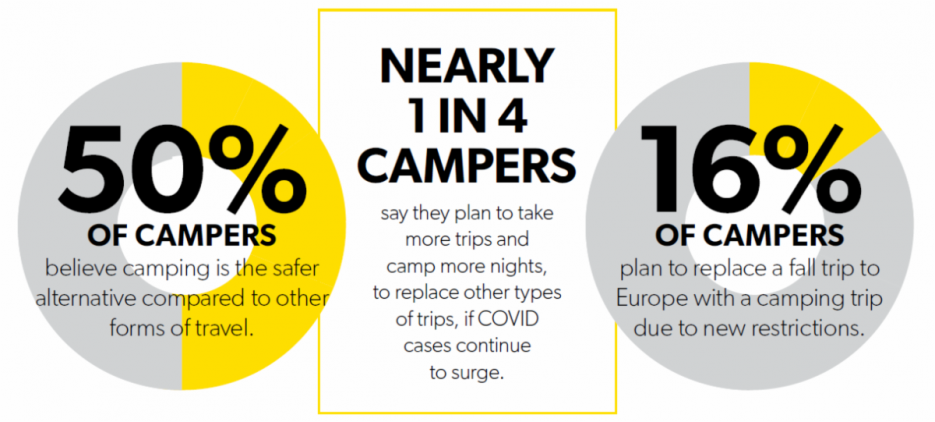 According to the latest projections, 54.5 million households are planning to camp in 2021, compared to 48.2 million in 2020. An estimated 6.2 million households will camp for the first time this year. Half of campers believe camping is the safer alternative compared to other forms of travel.
To view the full findings of the KOA Monthly Research Report – August Edition, past and future editions, and review the research methodology, visit the KOA Press Room.
Article Courtesy of: https://www.rvia.org/news-insights/koas-monthly-research-report-projects-1-4-camping-households-will-camp-september[/vc_column_text][/vc_column][/vc_row]