Though we should show our appreciation every chance we get, Dads get one special day out of the year dedicated to celebrating the impact they have on our lives. This year, Father's Day falls on Sunday, June 19, 2022, and you're going to want to make it one for the books. While you could buy Dad a Father's Day gift or send a Father's Day card, we know what he really wants: to spend time with you!
Looking for ideas to do for Father's Day to make it extra special? You've come to the right place. We've rounded up the best Father's Day activities that both adults and kids can enjoy. For a bit of adventure, surprise Dad by renting his favorite car for a joy ride, or plan a hike through his favorite trails. In the mood for something more low-key that you can do at home? Whip up a Father's Day breakfast, or dedicate time to learning more about his family history. If Dad is a more hands-on fellow, you can even tackle a Father's Day craft together or help him cross a chore off his to-do list.
Whether you have just a few hours or an entire day, these fun things to do with Dad are sure to spark memories that you'll cherish. With any luck, they may even become the start of a Father's Day tradition that you can enjoy together for years to come.
1.
Go for Ice Cream
The best conversations often happen over scoops of Rocky Road or mint-chocolate chip. Head to your local ice cream shop, and, if weather allows, savor your treats outdoors.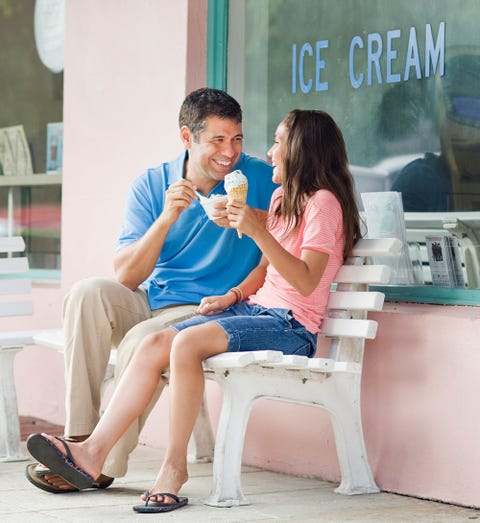 2. Treat Dad to a Backyard Picnic
Pile Dad's favorite main dishes, sides, drinks, and treats (to satisfy that sweet tooth!) into a basket or cooler, grab a blanket, and head out to the nearest patch of grass for an alfresco affair.
3. Enjoy a Family Game Night
This one's not just a win for Dad, but for everyone in your family. It's the perfect way to get your family off their phones and invested in real conversations—plus, laughter and good food are to abound.
4. Go Bird Watching
You don't have to be an all-out nature enthusiast to enjoy bird-watching. Basically, all you have to do is explore the neighborhood or nearest park with a set of binoculars. The fresh air will do everyone some good!
5. Host an Outdoor Movie Night
Treat him to a screening of best Father's Day movies with an outdoor movie night. Set up blankets and pillows for maximum comfort, hang some festive backyard string lights, and—of course—bring out bowls of popcorn and his favorite movie theater candies!
6. Take Him Shopping
How many times has he taken you shopping and picked up the tab? Even if he'd rather do, well, anything, other than shop, get creative. Pick a store you know he already loves or lead him to discover a new favorite. For example, if he loves to fish, take him to a shop that caters to and sells fishing gear!
7. Play Backyard Games
Enjoy your beautiful backyard and play some outdoor games, like cornhole, horseshoes, or croquet. It will tap into his competitive side, plus it's a great way to get active before a big Father's Day cookout.
8. Plan a Bike Ride
Perhaps one of the best parts about Father's Day is that it falls in the beginning of the summer, when the weather is just about perfect. Go on a bike ride and get some fresh air while working up an appetite for a special Father's Day meal.
9. Go Camping
Relaxing in the great outdoors—is there any better way to spend Father's Day? Whether you're camping off the grid or in the backyard, he'll appreciate relaxing and enjoying time with family.
10. Help Add to His Collection
Whether he collects vintage fishing tackle or loves to hunt for old gas station signs, Dad will definitely appreciate you tagging along on his next junkin' excursion—and Father's Day is the perfect excuse to head to that antique mall he's always wanted to visit.
11. Wash the Car Together
When you're in kindergarten, washing the car with Dad is an excuse to play with bubbles and cool off with the hose on a hot day. When you're grown, it's a chance to spend time with him while he imparts fatherly advice on everything from your next big life decision to your buffing technique. At any age, this Father's Day activity is timeless.