The COVID-19 pandemic has brought many forms of travel to a halt over the last year, but one option that remains attractive for many consumers is traveling by recreational vehicle. RV travel has been thriving in the pandemic, with a bump in RV shipments and strong revenues for campgrounds and RV parks last year.
There are a few reasons why RV travel still holds appeal in the COVID-19 era. When traveling and staying in one's own vehicle, there is less reason to fear exposure to the virus when the alternatives involve sharing space with others in an airport, restaurant, or hotel. Further, many of the destinations people seek out when traveling by RV are outdoor, natural attractions which are similarly less risky.
While COVID-19 has stoked additional interest in RVs recently, demand for RVs has in fact been growing steadily for several years. One of the big factors behind this trend has been the U.S.'s growing number of retirees. As Boomers age out of the workforce, many of them are taking to the road in RVs and campers to enjoy their retirement. But RVs hold appeal for younger Americans, too—22 percent of the market is 18 to 34 year olds, who are increasingly buying or renting RVs for camping and other outdoor activities.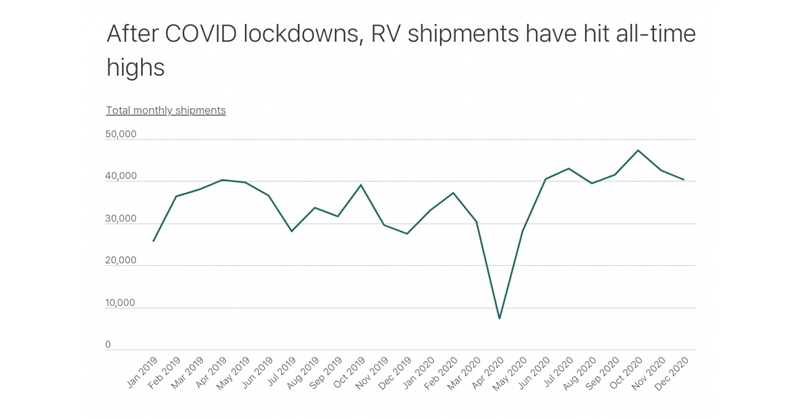 Over the past two years, monthly RV shipments were consistently reaching 30,000 or more—already strong figures—until stay-in-place orders took effect in March and April of 2020. But over the summer, shipments rebounded even stronger, topping 40,000 RVs per month throughout the second half of the year. And industry experts expect this trend to continue, with shipments for 2021 projected to exceed 500,000 vehicles, which would be a record figure for the industry.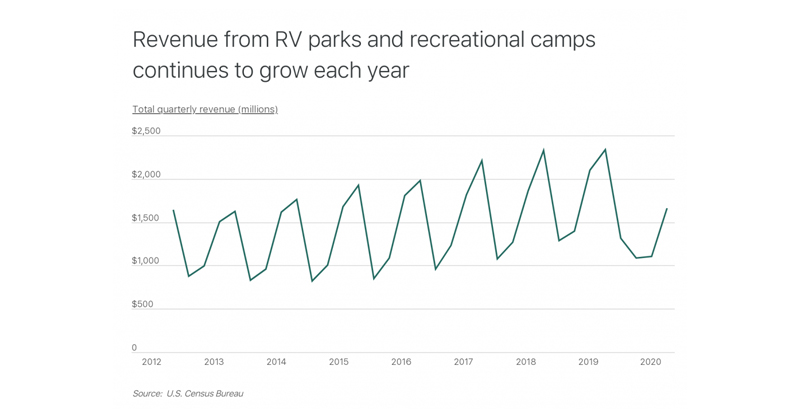 Increased interest in buying and renting RVs has also been good business for those operating RV parks and recreational camps—an industry sector that includes both RV parks and campgrounds as well as recreational vacation camps, such as hunting camps, fishing camps, and dude ranches. While revenues for such establishments also dipped during the initial COVID-19 shutdowns, the overall trajectory dating back to 2012 has been positive. During the busy spring and summer months, total industry sector revenues now regularly exceed $2 billion quarterly nationwide, of which RV parks and campgrounds account for about half. Even in the slower winter months, revenues have topped $1 billion per quarter every year since 2017.
Some states are reaping the benefits of this interest more than others. Many of the states in the Western United States, which have plentiful protected park lands and natural attractions suited for camping and outdoor excursions. The most prosperous of these Western states is South Dakota, home to six national parks or monuments, including one of America's top tourist attractions in Mount Rushmore.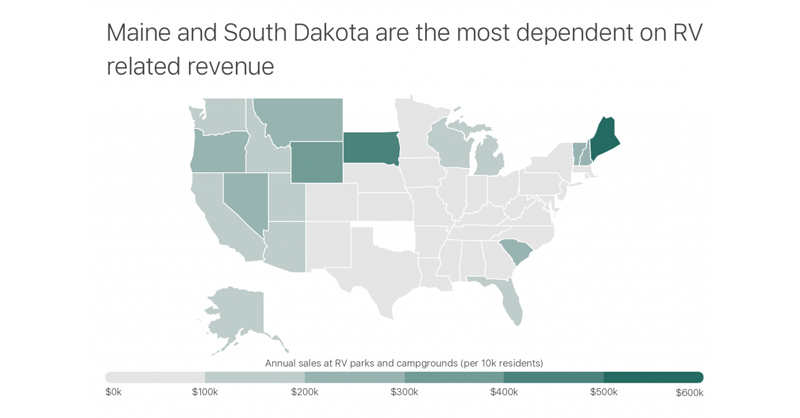 But it is Maine, the New England state that bills itself "Vacationland," that takes the top spot among states when considering per capita sales at RV parks and campgrounds. Maine draws travelers to its numerous natural attractions, including Acadia National Park and the state's scenic coast, mountains, and woodland regions. The state generates more than $600,000 in annual sales at RV campgrounds per 10,000 residents.
Check out the full article at Outdoorsy here.
Article Courtesy of: https://www.rvia.org/news-insights/cities-most-dependent-rv-campgrounds