Few sights are as magical as the sun peeking over the horizon, scattering wide stretches of red and orange across the sky. Although the rising sun is a beautiful image no matter where you are, certain locations contribute unique backdrops that add something special. High-reaching mountains, lapping ocean waves, forest canopies and towering cityscapes create a truly breathtaking sunrise.
SUNRISE OR SUNSET: WHICH IS BETTER?
Both sunrises and sunsets are vibrant and colorful. Depending on your location and the occasion, you might prefer one over the other. Sunsets offer an ideal ending to a special day, such as a wedding or romantic date. Watching the sun create brilliant displays makes the day feel complete. In addition, sunsets are often convenient to catch, appearing while you are already out.
On the other hand, sunrises are perfect for starting off your day right — those who like to begin their day with some mindful meditation or yoga find the rising sun a perfect backdrop. You might also see the sunrise by chance. Campers often wake up with the emerging light or set alarms for early morning activities while temperatures are still comfortable. Those on family vacations might wake up early to pack as much fun as possible into their day. One reason some prefer the sunrise is its quiet nature — it tends to be a less crowded time of day.
Whether you prefer a sunrise or sunset might also depend on where you are — for instance, the East Coast offers unforgettable sunrises over the ocean, while the West Coast is the place to be for a seaside sunset.
WHEN IS SUNRISE?
When you are in one of the locations with the best sunrises, you have to know when to wake up for it. Sunrise times vary depending on where you are and the time of year. You can use this Farmer's Almanac sunrise and sunset calculator to find out the timing. All you have to do is put in your city and state or postal code. The tool will tell you the sunrise and sunset times and the length of the day. It also tells you when dawn will break and when night will fall, which shows you how long you will have to catch the rising or setting sun.
10 BEST PLACES TO WATCH THE SUNRISE IN NORTH AMERICA
Where can you see the best sunrises in North America? Lots of locations across the continent offer remarkable east-facing scenery, creating an enchanting backdrop for the rising sun. Whether you prefer a sunrise over a tree line, mountain range, cityscape or twinkling body of water, you can find the most desirable setting for your next adventure. Here are 10 of the best places to watch the sunrise in the United States and Canada.
BEST SUNRISES OVER GEOLOGIC FORMATIONS
Mountain ranges and rocky landscapes provide ascending trails for overlooks of open sky. Getting to higher ground can make the sunrise that much more magnificent. Geologic formations offer beautiful places to watch the sun appear over the horizon. Start your morning right in one of these locations: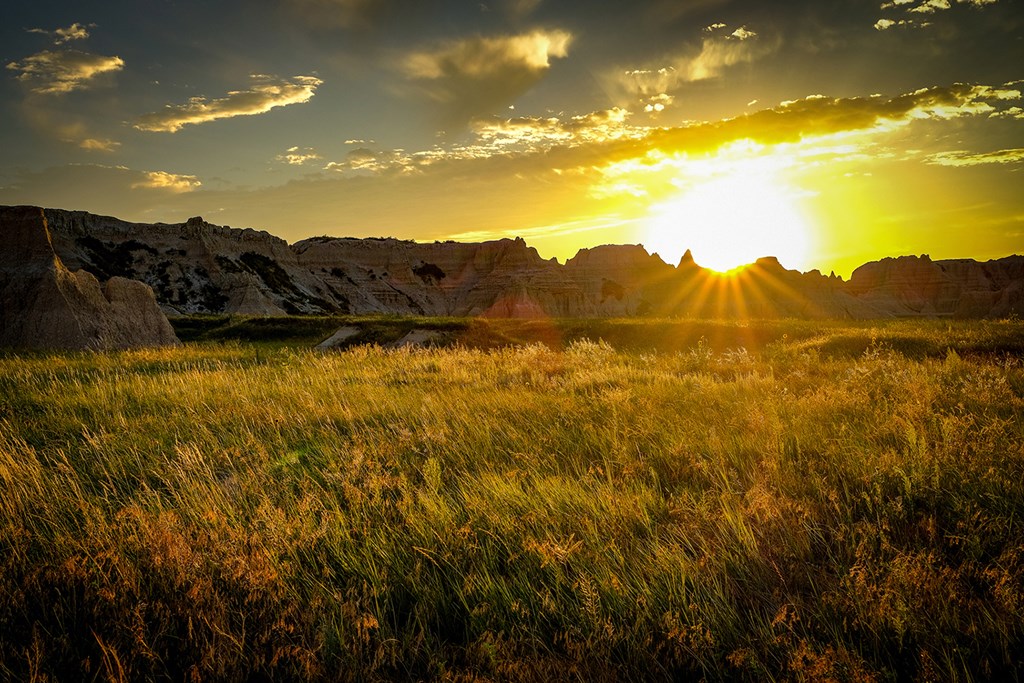 1. BADLANDS NATIONAL PARK IN SOUTH DAKOTA, UNITED STATES
A great spot for unique sights, including stunning sunrises, is the Badlands National Park in South Dakota. The national park features stunning geologic deposits, fossils of ancient flora and fauna, and an array of prairie-based wildlife. It also has a rich history as home to the Lakota and American homesteaders. Its unique, rugged rock formations are the perfect setting for a sunrise.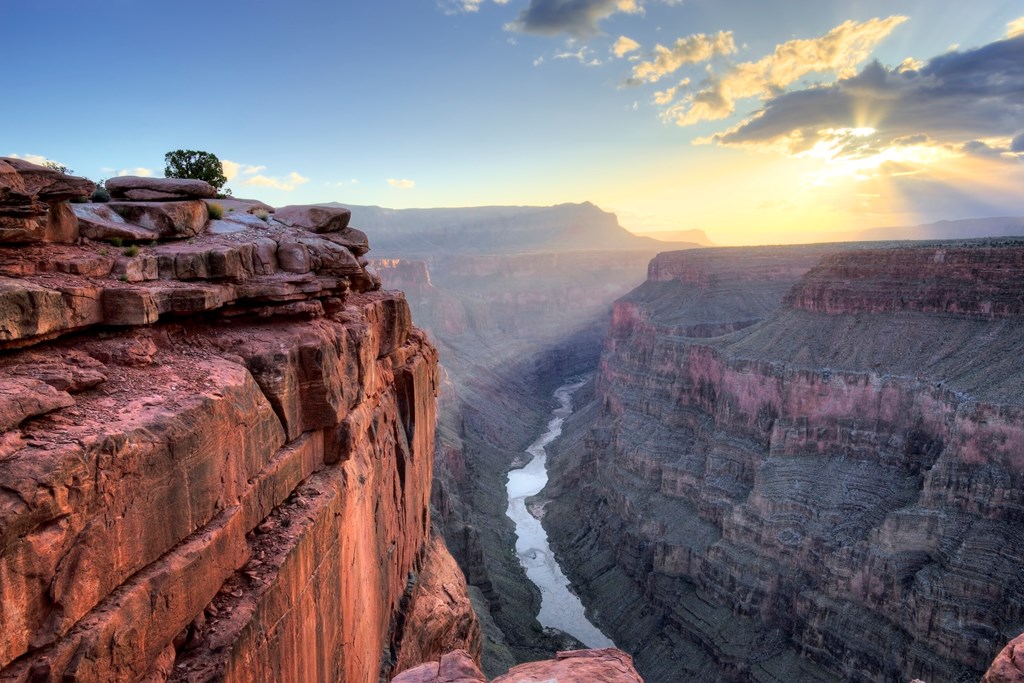 2. GRAND CANYON NATIONAL PARK IN ARIZONA, UNITED STATES
Of course, this list would not be complete without mentioning the Grand Canyon. Although the sunrise is bound to be beautiful wherever you find yourself in the state of Arizona, expert travelers suggest the Grand Canyon's Mather Point or Yaki Point.
Mather Point is a short journey from the visitor center, making it a more convenient option. It features deep canyon dips and bright, open skies. Meanwhile, Yaki point is deeper in the park, so it provides a smaller chance of running into a crowd. Keep in mind, you will have to start your day early to get there on time.
BEST SUNRISES OVER FORESTS
The interwoven leaves of a forest canopy filter sunlight in wonderful ways. Forested and wooded national parks provide some of the best sunrises in the U.S. Here are a couple of places you can watch the sun come up through the trees:
3. SHENANDOAH NATIONAL PARK IN VIRGINIA, UNITED STATES
Many travelers drive through Virginia's scenic Skyline Drive just to catch a few glimpses of Shenandoah National Park. The drive is most popular in the fall, when the foliage changes, resulting in expanses of red, orange, and yellow as far as you can see. The park extends along the breathtaking Blue Ridge Mountains, including forested areas dotted with waterfalls and high overlooks.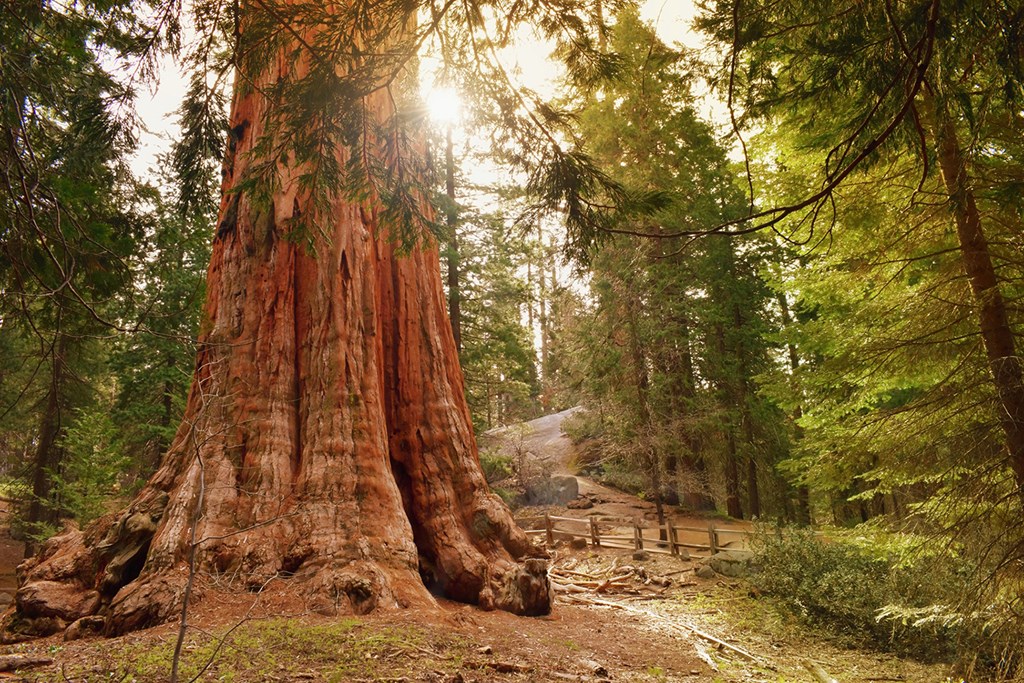 4. SEQUOIA NATIONAL PARK IN CALIFORNIA, UNITED STATES
California's West Coast location might make its sunsets more famous, but the state also offers some gorgeous sunrises, especially in its eastern half. Consider Sequoia National Park, just west of Death Valley. The park is home to its namesake ancient, giant sequoia trees, which will take your breath away any time of day. Sequoias are the world's largest tree, often more than 20 feet wide. They only grow within a 60-mile span of the forest. The park's hiking trails give you a chance to catch a sunrise over these unique forests. You will find the clearest sunrise view at the Moro Rock granite formation.
BEST SUNRISES OVER WATER
The glistening reflections of water can make a sunrise doubly enchanting. East-facing lakes, rivers, basins and oceans are some of the best places to watch the sun come up. Here are some places where you can catch waterside sunrises: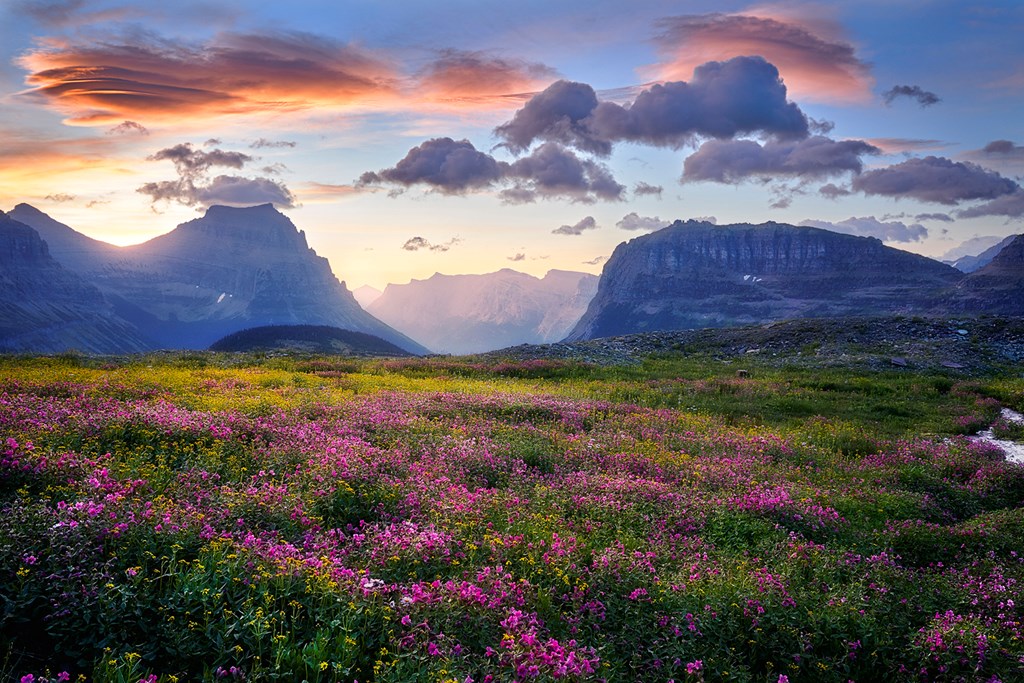 5. GLACIER NATIONAL PARK IN MONTANA, UNITED STATES
Some would argue a sunrise is most beautiful over a peaceful lake — the state of Montana's Glacier National Park provides 131 named lakes — and over 700 lakes total — that are surrounded by rocky, snow-covered high points. The park sits on over a million acres of land and is home to a thriving ecosystem of wildlife, as well as glaciers.
As you watch the sun come up, you might catch a glimpse of a bald eagle, bighorn sheep or mountain goat. All-in-all, the park is one of the most well-preserved and magnificent places you can visit in North America.
6. NIAGARA FALLS IN ONTARIO, CANADA
Niagara Falls is one of North America's biggest tourist attractions — the vast waterfall sits on the border between Ontario, Canada and New York State. If you come to see the falls and surrounding city, be sure to plan at least one early morning. The gentle colors of the sunrise illuminate the mist from the falls for one of the most picturesque views imaginable.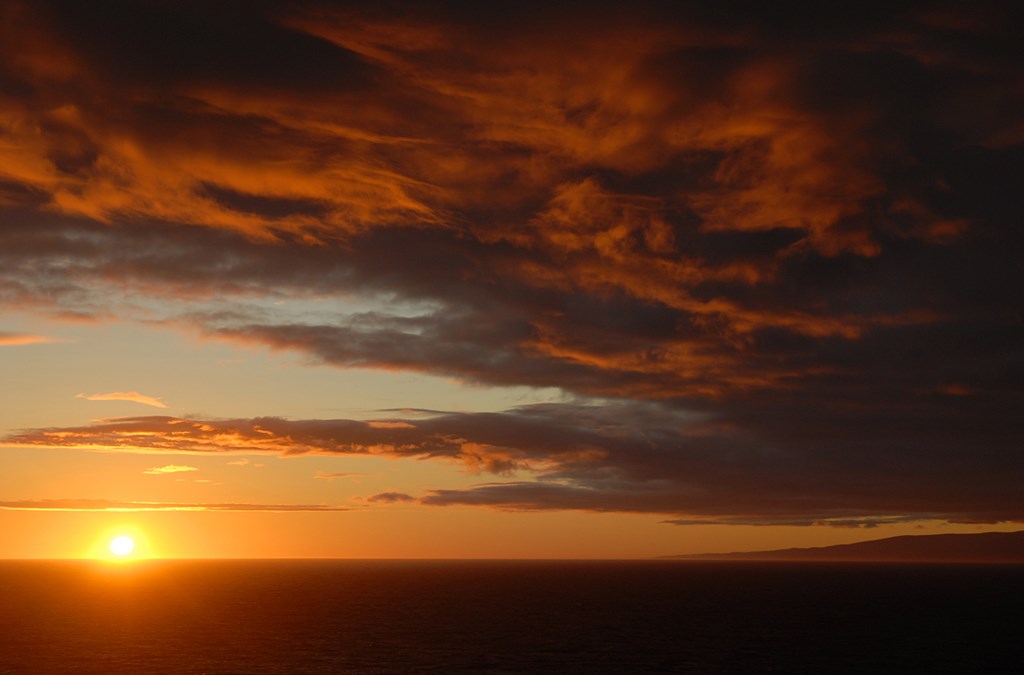 7. HALIFAX WEST IN NOVA SCOTIA, CANADA
You will find some of the best oceanside sunrises in Canada in the Nova Scotia Province — those in Halifax West are unmatched. You can watch the sunrise before a day of exploring downtown Halifax or nearby woodlands. One of the most desirable places to watch the sun come up is the Flag Pond Coastal Access Park in Cow Bay, where you can share the view with local surfers. You could also watch the sunrise over Bedford Basin from the Bedford Waterfront.
You could also make your way over to the Bay of Fundy, famed for its high tides causing flowerpot-shaped formations. After exploring the area's attractions, you can enjoy fishing, canoeing, or hiking through wooded trails at a local campground.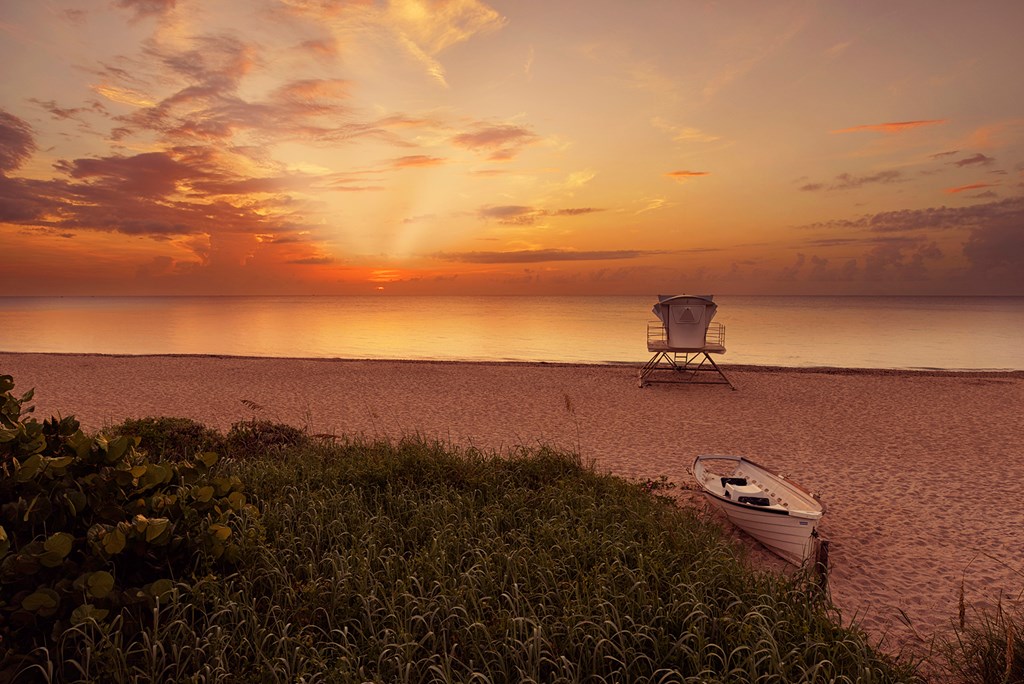 8. WEST PALM BEACH IN FLORIDA, UNITED STATES
If you prefer a warmer climate, Florida's West Palm Beach is an excellent place to see an oceanside sunrise. The bustling city is full of fun places to explore after dawn. Wander through the streets to find restaurants, bars, art museums and performances. A popular spot is Rosemary Square, featuring old-world architecture. If you are interested in history, be sure to visit the Antique Row art and design district, lined with antique and specialty shops.
BEST SUNRISES OVER CITYSCAPES
While mountains and forests make delightful sunrise backdrops, there is something special about a rising sun over the towering buildings of a unique cityscape. Cities also offer plenty of fun activities and sights once the sun is up. Here are a couple of the best places to enjoy a cityscape sunrise in North America: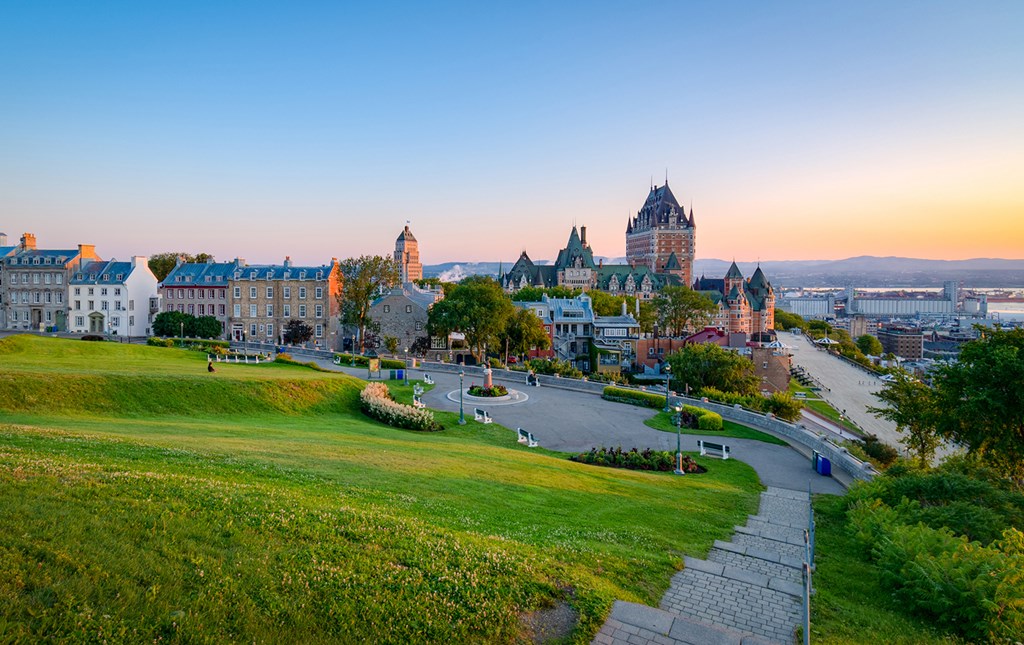 9. QUEBEC CITY IN QUEBEC, CANADA
A bit further north, you will find Quebec City in its namesake province of Quebec. With its French heritage, the city boasts a certain European charm — you can stroll through cobblestone streets, enjoy unique cuisine and explore museums and attractions. The city sits on the Saint Lawrence River, creating scenic waterside views.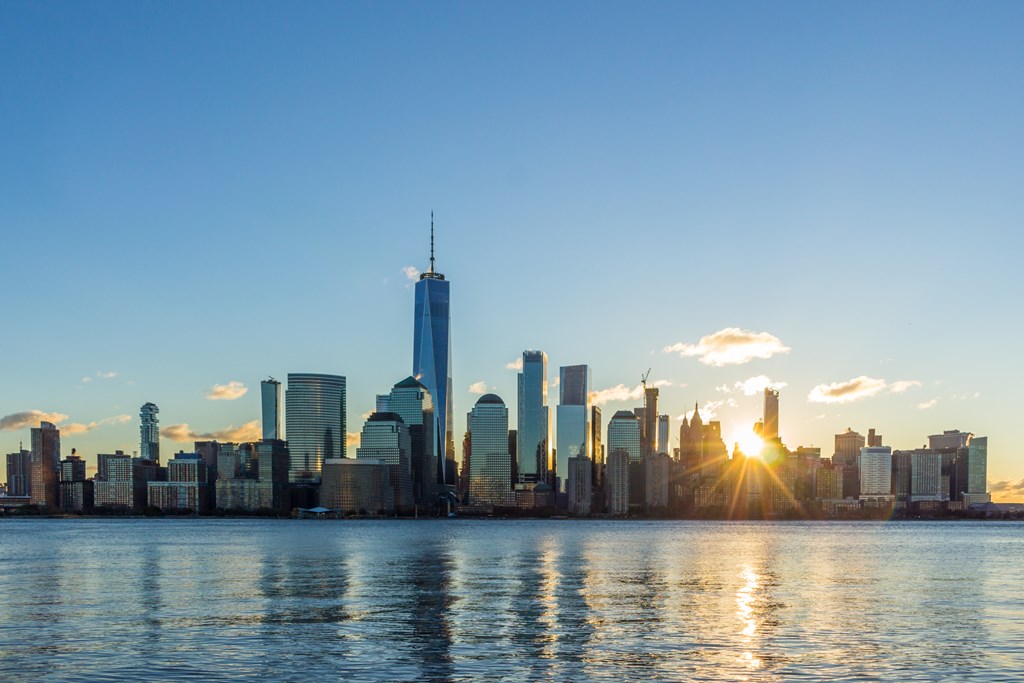 10. NEW YORK CITY IN NEW YORK, UNITED STATES
As the second-most populous city in North America — just following Mexico City — the famous metropolis in New York State has some of the world's most iconic cityscape views. They appear more stunning than ever in the soft glow before dawn. Any day is easy to fill with activities in New York City — you can take a trip to historic Ellis Island and see the Statue of Liberty, watch one of the world's grandest live shows on Broadway or explore the Metropolitan Museum of Art.