[vc_row][vc_column][vc_column_text]"New year, new you." The new year is your opportunity to create a new you, and if you're reading this, chances are good that you're looking to create a new you that has healthier eating habits.
You may find yourself strict when you're at home, eating healthy meals during the week, and feeling like you're on top of the world with your health. However, when the weekend hits and it's time to go camping, you (along with many, many others) may find that the snacks and the "weekend mentality" get the best of you. You return home on Monday morning full of regret for what you indulged in over the weekend.
First of all, never make yourself feel bad about indulging over the weekend. We are human and deserve to enjoy some cake from time to time. In this new year, make it a goal to try and be healthy 80% of the time and allow yourself some freedom 20% of the time. It's all about balance. Aiming to be healthy 100% of the time is only setting you up for failure.
To help you succeed in your new endeavors to be more healthy, we have rounded up some of our favorite healthy camping recipes. These are ones that you can create at home or while you're out camping and enjoy all the delicious flavors without any of the bad stuff.
HEALTHY CAMPING RECIPES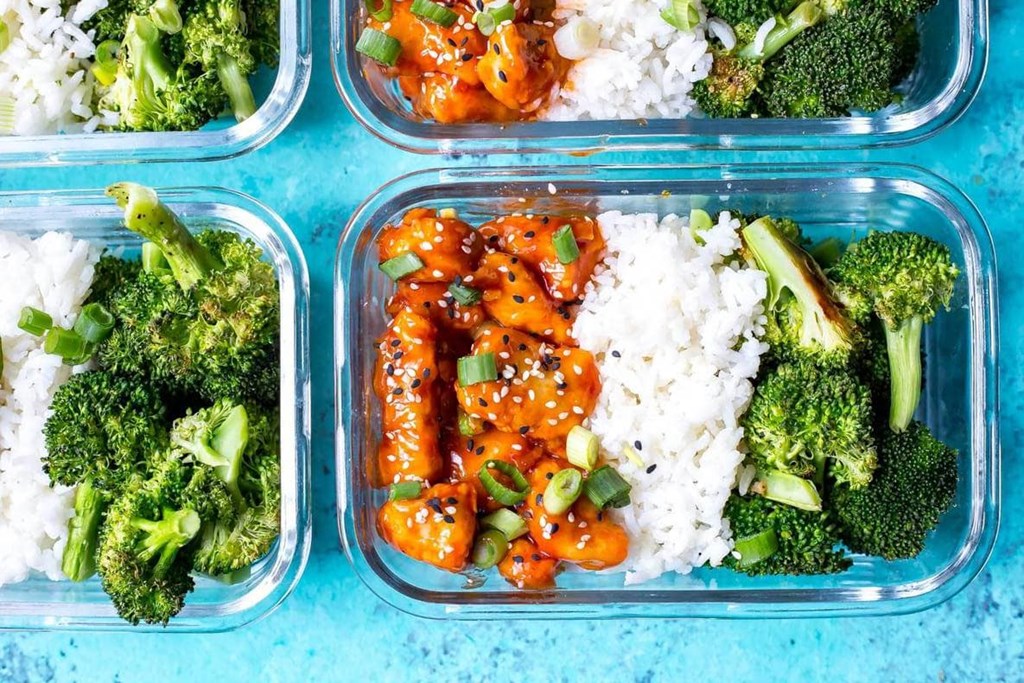 HONEY SRIRACHA CHICKEN MEAL PREP BOWLS
If meal prep is a way that you know you can stay on track with being healthy, then you should also consider meal prepping for your camping trips. This ensures you have something healthy to eat while traveling, and also makes life easier. This way, you can enjoy your time while camping and not have to worry about spending precious time cooking at your campsite.
Serves 4
Ingredients you need:
1 tbsp olive oil, divided
3 chicken breasts, diced into 1-inch pieces
2 eggs
2 cups flour
1 head Broccoli
2 cups jasmine rice, cooked
2 green onions, sliced (optional)
1 tbsp sesame seeds (optional)
Honey Sriracha Sauce
1/2 cup ketchup
1/2 cup honey
1/3 cup Sriracha
1/2 tsp salt
How to make it:
Preheat oven to 425F
Put egg in one large bowl and flour in a separate large bowl
Put chicken in egg bowl, covering it with egg
Move chicken to flour bowl and coat it in flour, shaking to get off any extra flour
Grease a non-stick baking sheet and add chicken pieces, leaving room for broccoli at one end
Bake in the oven for 10 minutes.
While this is baking, cook rice in a rice cooker or according to package directions
Chop broccoli florets.
Remove chicken from oven and flip, then add broccoli and drizzle with olive oil and season with salt and pepper
Put back in the oven for another 10 minutes
Mix sauce ingredients and microwave for 2 minutes until sauce is slightly thickened
Remove chicken from oven and toss in sauce to coat
Add all ingredients to meal prep bowls then top with green onions and sesame seeds
Serve or store away for future use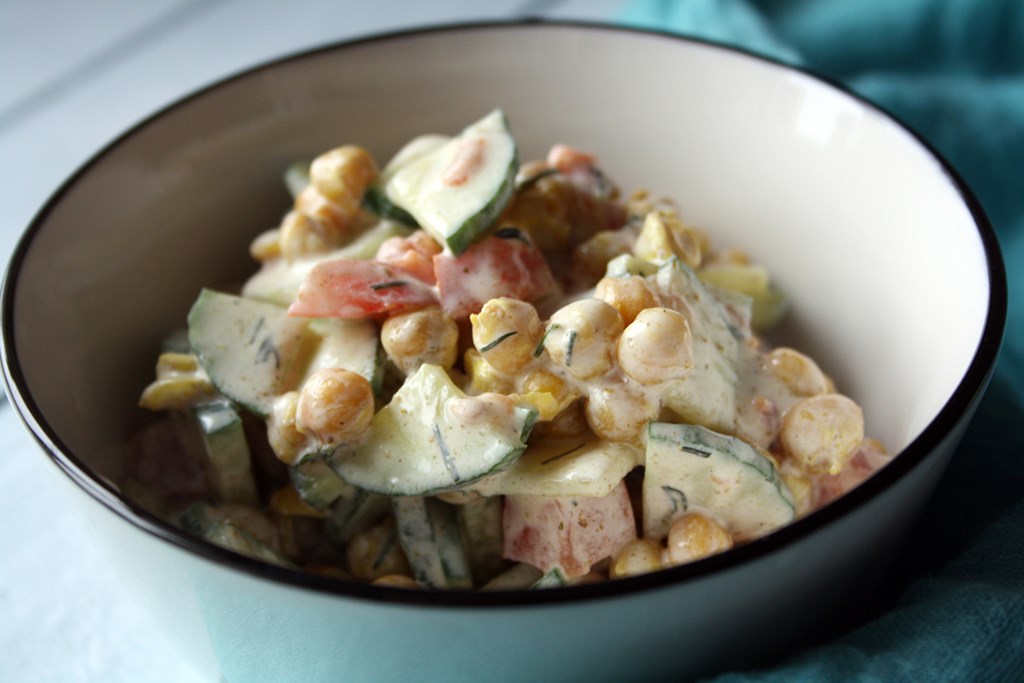 TAHINI CHICKPEA CUCUMBER SALAD
If you're making an effort to eat more vegetables and scale back a bit on the meat, then this salad is something you'll love. It is easy to make and packs well for camping so you can enjoy it while on a hike or back at camp when you don't want to have to worry about cooking after a long day. If you're concerned about getting enough protein with this meal, one serving offers up nearly 12 grams!
Serves 4
Ingredients you need:
2 15-ounce cans chickpeas, drained and rinsed
1 small cucumber seeded, quartered lengthwise, and sliced
1/2 cup chopped fresh mint or parsley leaves, or a combination of the two
1/4 cup tahini
Juice from 2 lemons
1 T extra-virgin olive oil
1 T water if needed
Salt and pepper to taste
How to make it:
Toss the chickpeas, cucumber, and herbs in a large bowl
Whisk together the tahini, lemon juice, and olive oil in a separate small bowl (you may need to add water to thicken the dressing, but you want it thin enough to pour onto the salad)
Pour the dressing over the salad and gently toss until all the ingredients are well-combined
Season with salt and pepper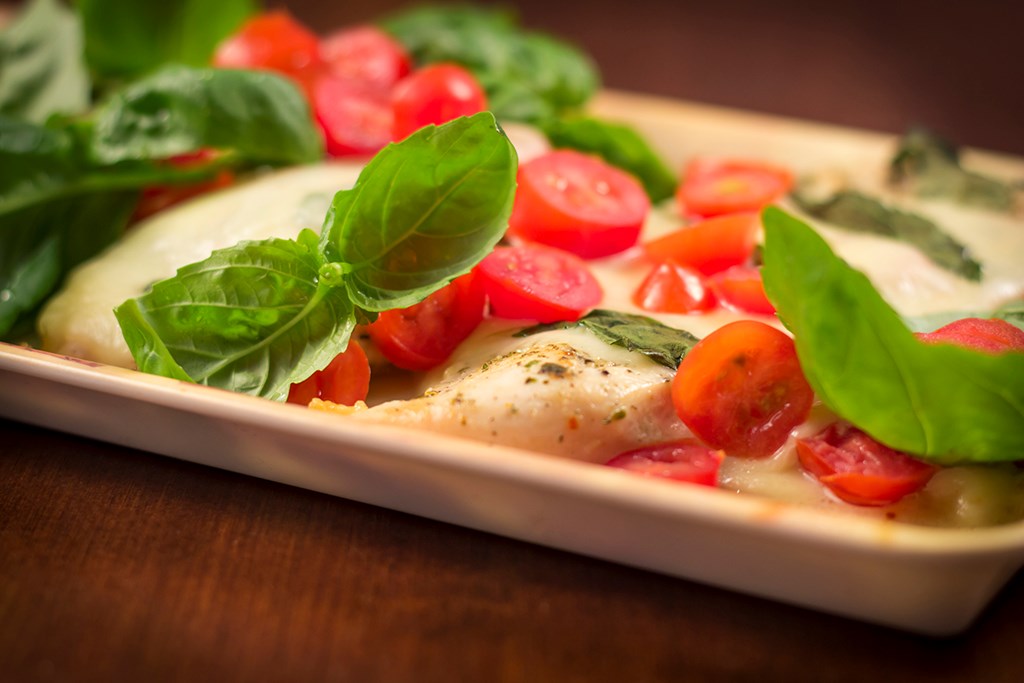 FOIL PESTO CAPRESE CHICKEN
The minimal steps and the basic ingredients that pack a lot of punch make this chicken a dreamy dinner option while camping, or when you're busy back at home. All you have to do is wrap the chicken in foil and either bake it in the oven, cook it on a grill, or make it over the campfire. This surprisingly makes for good leftovers too, which is great for those busy camping days. Just maybe skip adding the tomatoes until when you're going to eat it so things don't get too soggy.
Serves 4
Ingredients you need:
4 boneless, skinless chicken breasts
Kosher salt and freshly ground black pepper, to taste
1 cup pesto, homemade or store-bought
2 Roma tomatoes, sliced
4 ounces fresh mozzarella cheese, cut into 4 slices
1/4 cup basil leaves, chiffonade
How to make it:
Preheat oven to 375F
Cut four sheets of foil, about 12-inches long
Add chicken to the center of each foil; season with salt and pepper, to taste
Fold up all 4 sides of each foil packet
Top chicken with pesto, tomatoes, and mozzarella
Fold the sides of the foil over the chicken, covering completely and sealing the packets closed
Place foil packets in a single layer on a baking sheet. Place into oven and bake until the chicken is completely cooked through, reaching an internal temperature of 165F, or for about 25-30 minutes
Serve immediately, garnished with basil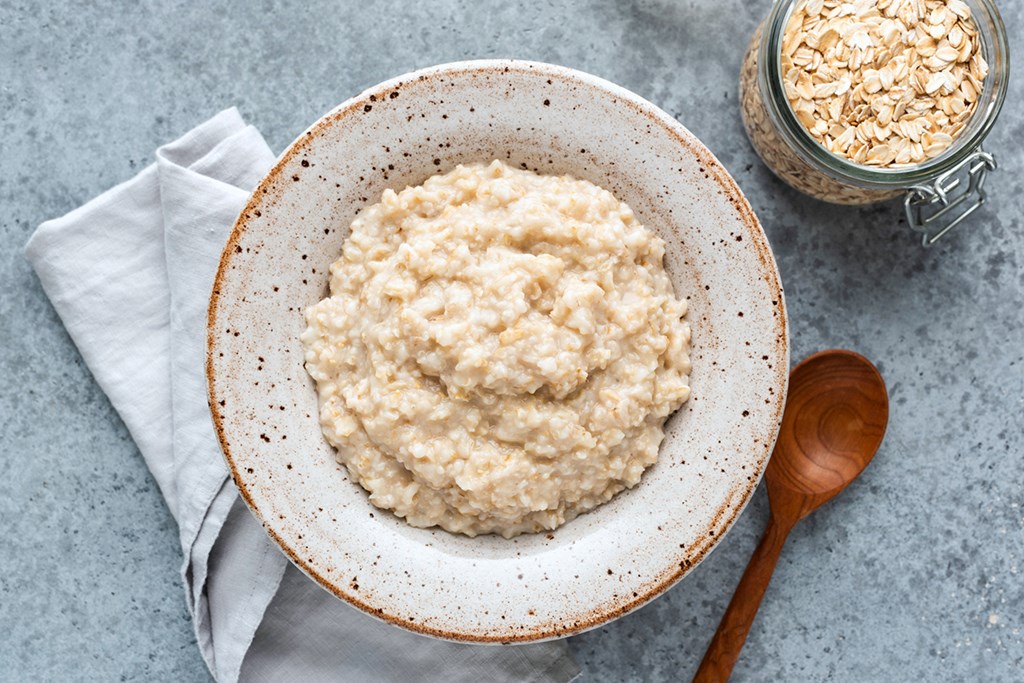 MORNING OATS
Oats are a great way to start your day and an even better way to start your day when you're camping. They provide you with a well-rounded mix of nutrition that helps to fuel that day of fun you have ahead of you. And did we mention they are super easy to make? That makes them taste even better. There are a couple of unique ingredients in here that you likely haven't used in your oats before, so read on to find your new favorite oats recipe.
Serves 2
Ingredients you need:
4 cups rolled oats
1/4 cup coconut milk powder (optional: makes any oatmeal recipe more creamy and satisfying)
5-10 drops liquid stevia (start with less and then add more)
dash of sea salt
big handful dried cranberries
1/4 cup chia seeds (optional)
1/2 cup shredded dried coconut, unsweetened (optional)
2 scoops protein powder of your choice
How to make it:
Mix all the dry ingredients in a large sealable bag
To serve, be sure all ingredients are mixed well and put your portion in a bowl
Add hot water slowly until you reach desired consistency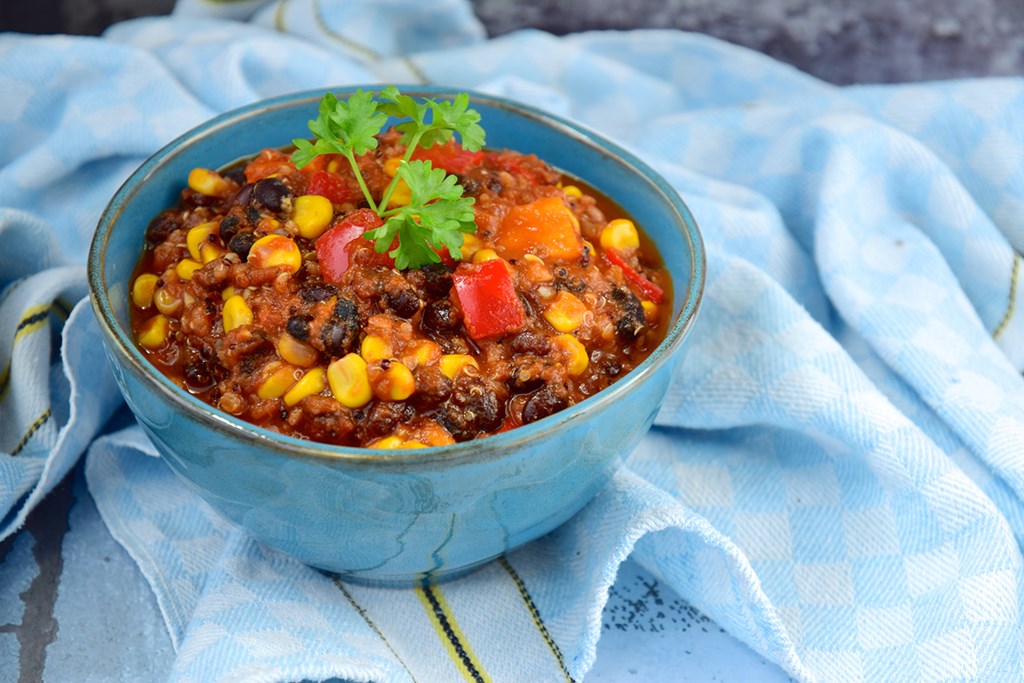 SWEET POTATO AND BLACK BEAN CHILI
It almost feels like an obligation to eat chili when you're sitting around a campfire. Some chilis can be quite unhealthy, full of fat and all kinds of ingredients you don't want to put in your body. But that doesn't mean you shouldn't get to enjoy this tasty camping delight. So we've found a healthy recipe that means you still get to have chili, without suffering the consequences.
Serves 2
Ingredients you need:
1 T oil
1 onion, diced
3 cloves garlic, minced
1 medium sweet potato, peeled and cut into 1-centimeter pieces
4 medium mushrooms, diced
4 medium tomatoes, diced
1 bell pepper, diced (I used yellow)
½ cup corn
1 tsp smoked paprika
1 tsp cayenne pepper
1 tsp ground cumin
2 T tomato puree
2 ½ cups canned black beans, drained but not rinsed
Salt and pepper to taste
Optional toppings: grated cheese, avocado, cilantro, guacamole, tortilla chips, etc.
How to make it:
Heat the oil in a large pan, and add the diced onion, garlic, and sweet potato
Cook over medium heat for a few minutes, until the onion is slightly soft
Add the diced mushrooms, tomatoes, pepper, and corn, along with the spices and tomato puree
Mix well, and continue to cook for 5-10 minutes, until the vegetables are soft
Add the drained black beans, and season to taste
Mix thoroughly, then cover the pan, and leave to simmer for at least 15-20 minutes, until the chili is cooked how you want it
Serve with your choice of toppings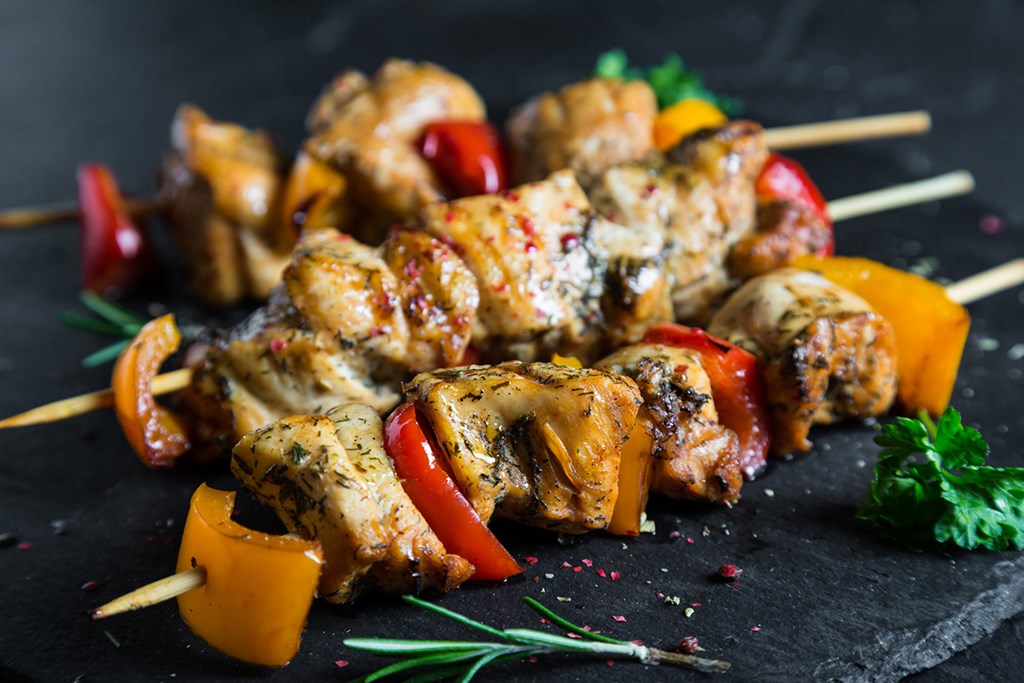 GRILLED JERK CHICKEN KEBABS
These kebabs are perfect for a camping trip. They are easy to make, full of flavor, and take minimal time to cook. Plus, the campfire gives them a bit of extra charred flavor that takes them to the next level. And if you're worried about whether these are too hot for your kids to enjoy, they're not. There are no spicy ingredients that will have anyone's mouth on fire. There will only be cries for more because these taste so good.
Serves 8
Ingredients you need:
2 lbs boneless skinless chicken thighs, cut into 1″ pieces
½ tsp nutmeg
1 T allspice
1 T cinnamon
3 T brown sugar
5 green onions, ends trimmed off
3 garlic cloves
1 T paprika
1 T salt
1 tsp black pepper
1 T dried thyme
¼ cup olive oil
¼ cup fresh squeezed lime juice
1 cup cilantro
1 red onion, cut into 2" pieces
1 lb baby bell peppers, whole
1 pineapple, cut into 2" pieces
Metal or bamboo skewers, soaked in water for an hour
How to make it:
In a blender combine the nutmeg, allspice, cinnamon, brown sugar, green onions, garlic, paprika, salt black pepper thyme, olive oil, lime juice, cilantro, and 1/4 of the red onion about 1/4 cup
Blend on high until smooth
Pour marinade over chicken and allow to marinate for 2-4 hours.
Preheat grill to medium heat
On each skewer add chicken, pineapple, bell peppers, and red onions, rotating ingredients evenly
Once prepared, place the chicken kebabs on the grill and cook until chicken is cooked through, rotating often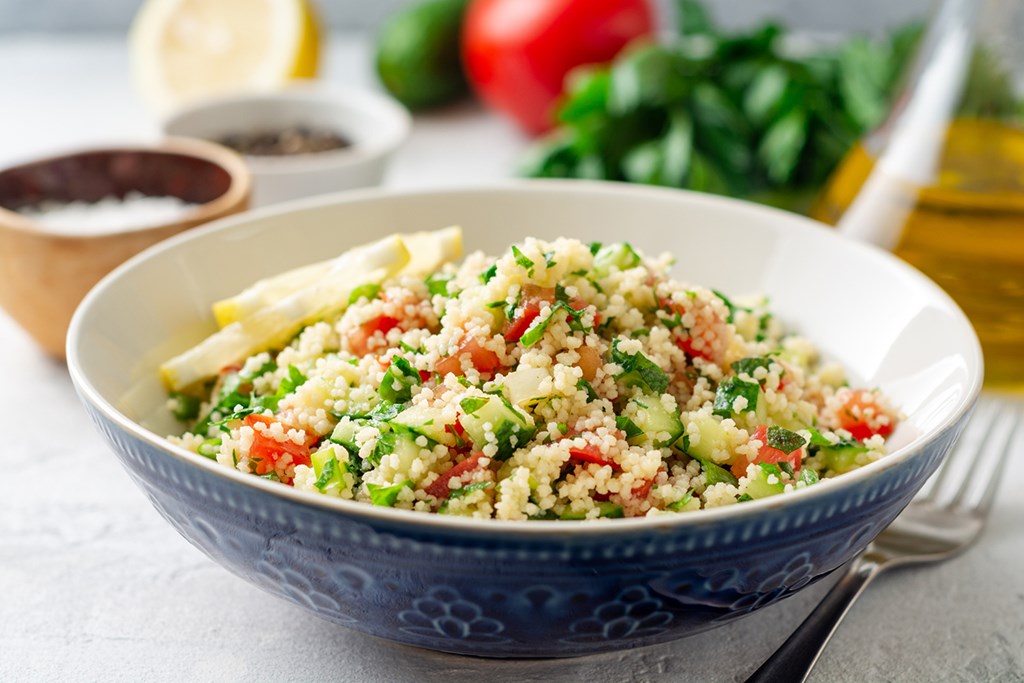 COUSCOUS SALAD
In a matter of 20 minutes at home, you can have this salad ready to eat for lunch while camping or to serve as a great side to your favorite chicken dish. It is packed with veggies and a healthy dressing that will give you all the good flavors without any of the bad stuff. Feel free to add in any of your other favorite vegetables or fruits to make this salad even better. If you have a gluten intolerance or aren't a fan of couscous, you can always substitute quinoa or rice.
Ingredients you need:
¾ cup couscous
1 T butter or ghee
¾ cup water
1 cup tomatoes
1 cup cucumber sliced
1 bell pepper chopped
¼ cup red onion thinly sliced
⅓ cup feta cheese crumbled
⅓ cup flat-leaf parsley chopped
Dressing
3 T olive oil
2 T red wine vinegar
1 T fresh lemon juice
1 ½ tsp honey
1 clove garlic minced
Salt & pepper to taste
How to make it:
Bring water, butter or ghee, and a pinch of salt to a boil
Add couscous, stir and cover
Remove from heat and let sit 5 minutes
Place all dressing ingredients in a jar and shake well to combine
Put couscous in a large bowl and fluff with a fork, then allow to cool completely.
Add remaining salad ingredients and dressing
Toss to combine and serve
See? Eating healthy doesn't have to be difficult or boring. You can get loads of good flavor without having to pack in fat, calories, and bad ingredients. To see some of the other camping recipes we love to make at KOA, take a look at our catalog of camping recipes to try today.
Article Courtesy of: https://koa.com/blog/7-healthy-camping-recipes-to-start-the-new-year-off-right/[/vc_column_text][/vc_column][/vc_row]