National parks are arguably America's greatest treasures. With more than 400 national park sites in the U.S. (including territories like Guam), there's never a wrong time to visit a national park.
However, crisp temperatures and minimal traffic make for a perfect getaway, and certain parks are especially appealing during the fall months. You can experience these parks in the summer and again in the fall and get completely different experiences.
Regardless of where you may be in the country, you are likely near enough to one or more of these 15 national parks to make a memorable fall adventure that may become your new annual adventure.
1. ACADIA NATIONAL PARK | MAINE
The fall foliage in southern Maine's Acadia National Park is hard to beat, as it is throughout most of New England. Peaking around mid-October, the kaleidoscopic colors are easy to see as you walk along the 3.3-mile Jordan Pond hiking path.
Adventurous hikers may also want to add the Penobscot and Sargent Mountain Loop to their itinerary. This 9.5-mile trail (round trip) can be strenuous, but the panoramas are epic.
Head to the top of Cadillac Mountain to watch the sunrise. From October through March, being at that vantage point makes you one of the first people in the U.S. to see the sunrise.
Lastly, take the trolley ride to learn about the park's features, geography, and history.
2. CONGAREE NATIONAL PARK | SOUTH CAROLINA
Paddling a canoe along the black waters of Cedar Creek is not to be missed on any Fall trip to Congaree National Park. From the end of October to early November, the creek waters mirror the saffron and rusty orange colors of autumn leaves in the old-growth hardwood forest through which the creek flows.
Congaree National Park contains the tallest deciduous forest in the U.S., and you can take advantage of many hiking trails and boardwalks to explore it on foot. Don't be surprised if you see deer grazing, otters swimming in the river, and turtles sunbathing on logs.
3. CUYAHOGA VALLEY NATIONAL PARK | OHIO
You may not have heard of Cuyahoga Valley National Park. Still, it's one of the ten most visited parks in the U.S. Located between Akron and Cleveland, Cuyahoga Valley is home to multiple dog-friendly and family-friendly trails such as The Ledges and Brandywine Falls.
Enjoy the riotous color changes of sugar maples and beech trees while paddling down the Cuyahoga River, or ride a rented bicycle along the Towpath Trail through historic canal locks. There's also a train ride through the park.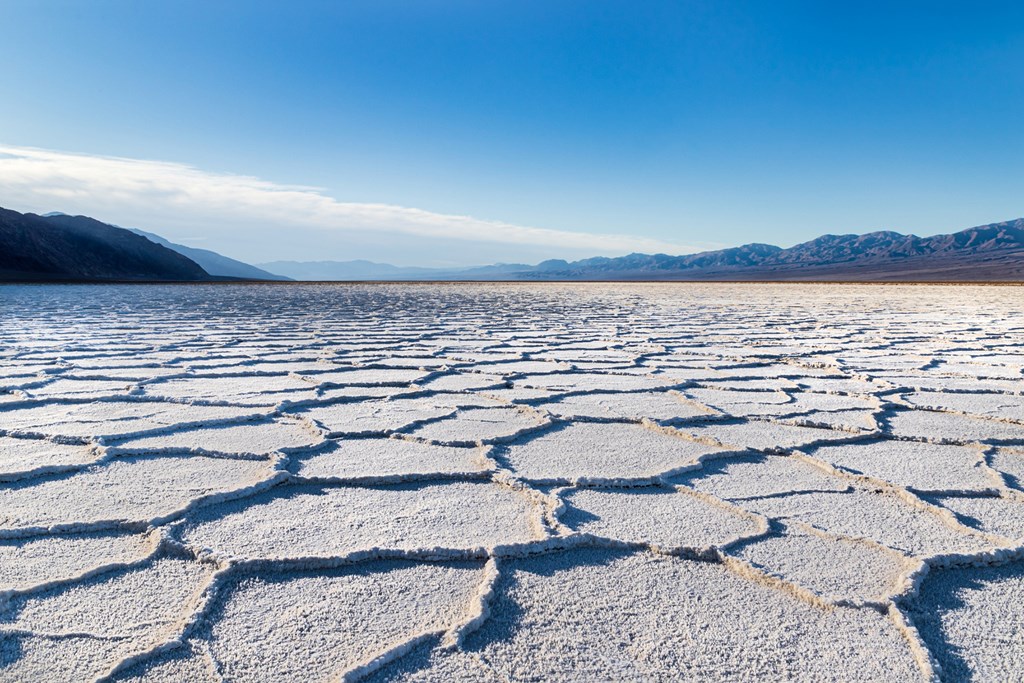 4. DEATH VALLEY NATIONAL PARK | CALIFORNIA
Fall and winter is the best time to explore Death Valley, where temperatures reach the triple digits in summer. The nearby town of Beatty, Nevada offers lodging and amenities for park visitors.
Stop by the Furnace Creek Visitor Center to get information on attractions, including:
Zabriskie Point, where you can watch the sunrise
Twenty Mule Team Canyon, part of the badlands
Mesquite Flat, where you can walk through the dunes
Badwater Basin, featuring remote salt flats with dark skies that are a night-sky photographer's dream.
There isn't any fall foliage here, but in October and November, you'll enjoy sunrises in shades of lilac and rose, along with cool nights perfect for stargazing.
5. EVERGLADES NATIONAL PARK | FLORIDA
Florida's Everglades is the largest subtropical wilderness in the U.S. It's an essential habitat for endangered and rare species like the American crocodile, the manatee, and the Florida panther. The Everglades is also a World Heritage Site, a Wetland of International Importance, an International Biosphere Reserve, and a specially protected area under the Cartagena Treaty.
Avoid the hot, sticky summertime and visit Everglades National Park in October-onward, when humidity drops and being outdoors is much more comfortable. Don't miss taking an airboat ride through the swamps.
The Tamiami Trail, which winds through the park, is one of the most memorable drives through a national park anywhere in the country.
6. GLACIER NATIONAL PARK | MONTANA
If fewer crowds are your goal, Fall is a great time to visit Glacier National Park. The Going-to-the-Sun Road, the busiest park road during the summer months, offers excellent views of glacier-cut mountains, roadside waterfalls, and glassy lakes.
You'll also see big horn sheep, mountain goats, and grizzly bears from the road, but use binoculars and keep your distance for safety.
To see fall foliage, plan your trip based on which end of the park you want to visit. On the west side, trees typically change colors beginning in mid-September. On the east side, though, colors start to pop closer to the end of September or the start of October.
Bright yellow aspen trees signal the start of fall in Glacier National Park. By mid-October, the park's last color change occurs when the larch tree, a type of conifer, turns a warm gold.
7. GREAT BASIN NATIONAL PARK | NEVADA
Great Basin National Park is an area of tremendous diversity, from the 13,000-foot summit of Wheeler Peak to sage-covered foothills, ancient bristlecone pines, mysterious underground passages, and the darkest of night skies.
Don't miss a tour of the Lehman Caves. The Parachute Shield Tour takes about an hour and travels half a mile through large rooms with steep ramps and smaller passages connecting them. The Grand Palace Tour, which is 90 minutes long, travels a little over half a mile and visits five underground rooms.
The moderate temperatures of fall make it a great time to visit Great Basin. By taking the 2.8-mile Bristlecone Pine Trail, you'll see the oldest living organisms in the world. The Mountain View Nature Trail takes you through a pinyon-juniper forest.
There's also ancient rock art in the Pictograph Cave and an excavated Fremont Indian Village at the Baker Archeological Site. Fishing and gathering pine nuts are other popular activities.
8. GRAND CANYON NATIONAL PARK | ARIZONA
September through November is a great time to visit the Grand Canyon National Park. Summer crowds are long gone, and temperatures are mild. Bring your hiking poles and explore the Grand Canyon, or drive through the park and take in the epic vistas with splashes of desert autumn colors.
The park encompasses 278 miles of the Colorado River and uplands, exhibiting one of the most spectacular examples of erosion in the entire world. The South Rim and the North Rim are open to visitors 24 hours a day.
Located on the ancestral homeland of 11 Associated Tribes, Grand Canyon National Park is one of a dozen Dark Sky-certified parks, making it a mecca for stargazers and night sky photographers.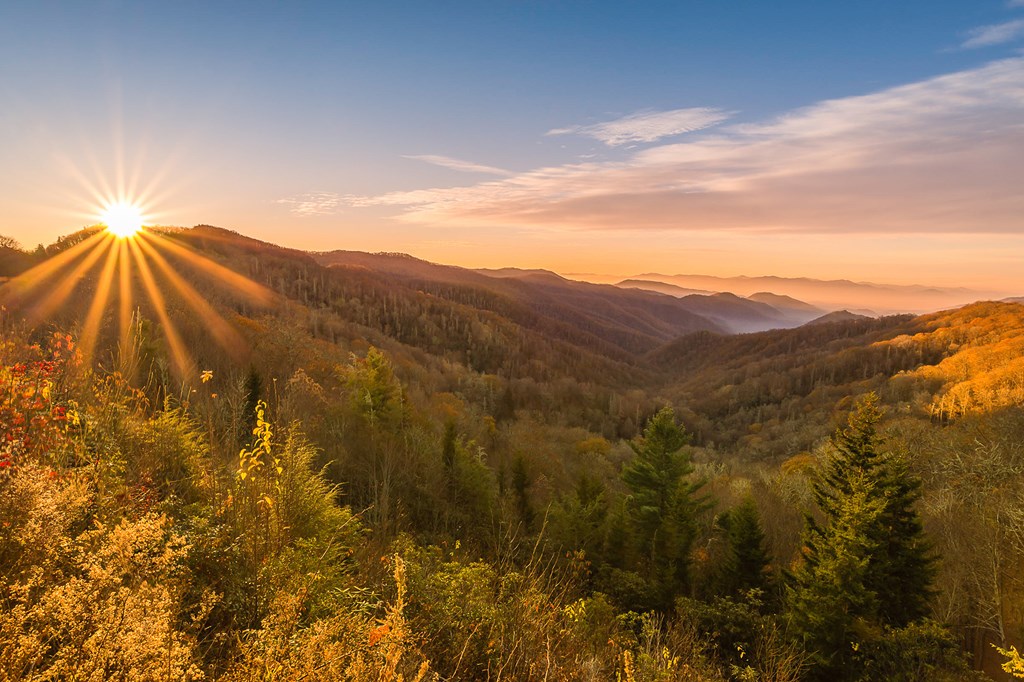 9. GREAT SMOKY MOUNTAINS NATIONAL PARK | NORTH CAROLINA AND TENNESSEE
Great Smoky Mountains National Park is the most-visited national park in America. With more than 100 different species of trees, the Fall color change in the Smokies and the Appalachian Mountains is a sight to behold, rivaling that of New England.
Few places are more beautiful from mid-October to early November as the blue hills of Tennessee and North Carolina change to fabulous shades of orange, red, and yellow. Hike to Clingmans Dome to get a panoramic view of the spectacle, or drive along the Blue Ridge Parkway and the Foothills Parkway to see it by car.
Immerse yourself in the area's pastoral history by driving, walking, or biking Cades Cove Loop. Guided tours by Jeep take you to some of the park's best lookout spots as you learn about the wilderness from a local expert.
10. MOUNT RAINIER NATIONAL PARK | WASHINGTON
Mount Rainier ascends to 14,410 feet above sea level, an icon of the Pacific Northwest's rugged landscape. It's the most glaciated peak in the contiguous U.S. spawning five major rivers.
Mount Rainier National Park offers majestic vistas awash in vibrant oranges, reds, and yellows from mid-October through early November. The most beautiful displays can be found at Sunrise and Chinook Pass, Reflection Lakes, the Paradise area, Bench and Snow Lake, and the Grove of the Patriarchs.
Want to check out weather conditions before you go? The park offers a live webcam in a dozen locations that operate 24 hours daily.
11. ROCKY MOUNTAIN NATIONAL PARK | COLORADO
Fall at Rocky Mountain National Park features a golden yellow hue as the elegant aspen trees change color. The look is utterly distinct from East Coast autumnal scenes. The foliage begins changing colors in late August and hits a peak in late September.
With towering mountains, tall aspens, actual four seasons, and plenty of wildlife viewing, the park represents the essence of Colorado. During the fall months, you can hike the trails and watch bighorn sheep and elk without navigating many crowds.
Drive along Bear Lake Road as it winds through the forest. Make a stop at either the Mills Lake Trail (5.6 miles) or the Emerald Lake Trail (3.6 miles) to immerse yourself in the landscape.
12. SHENANDOAH NATIONAL PARK | VIRGINIA
The fabled Blue Ridge Parkway, one of the country's most famous road trips, terminates at the south entrance to Shenandoah National Park. At that point, the parkway becomes Skyline Drive, a 105-mile stretch that winds through rolling hills of orange, yellow, and crimson in the fall. Colors peak in October.
Located just 75 miles from Washington, DC, Shenandoah National Park has numerous cascading waterfalls, fields of wildflowers, and over 200,000 acres of protected land that is a haven for deer, black bears, and songbirds.
From Skyline Drive, you can also access the famous Appalachian Trail.
13. YELLOWSTONE NATIONAL PARK AND GRAND TETON NATIONAL PARK | MONTANA, IDAHO, AND WYOMING
We've combined these two incredible national parks into one listing because they are adjacent to one another, and if visiting one, you need to take in both. Both offer awe-inspiring mountains, foliage, and natural attractions.
Yellowstone National Park is the epitome of what people imagine as a national park. It is the first national park to ever exist and was started in 1872. Today it covers over 2.2 million acres. Visitors have unparalleled chances to observe an intact ecosystem full of wildlife, half of the world's active geysers, and geologic marvels such as the Yellowstone River's Grand Canyon.
In Grand Teton National Park, pronghorn sheep and bison migrate large herds toward their wintering grounds. There's also a good chance you'll see moose and elk. Popular tours for park visitors include float trips down the Snake River and photography excursions. Fly fishing is also a prevalent pastime, and numerous guides are available.
14. YOSEMITE NATIONAL PARK | CALIFORNIA
As California's most-visited national park and one of the nation's most popular, Fall is an excellent time to visit Yosemite National Park to avoid the crowds and traffic jams that are par for the course in summer.
Yosemite is best known for its waterfalls and ancient giant sequoias, but you'll also find a vast wilderness area, grand meadows, deep valleys, and more.
While the 1200-square-mile park doesn't have the vibrant fall colors of those on the East Coast, there's more than enough to get your fix. Just don't wait too long – snow usually starts in November.
People who want to hike to the top of Half Dome must get a permit in advance. Day hikers can apply for permits at Recreation.gov. Backpackers who intend to spend the night must apply for Half Dome permits along with their wilderness permits.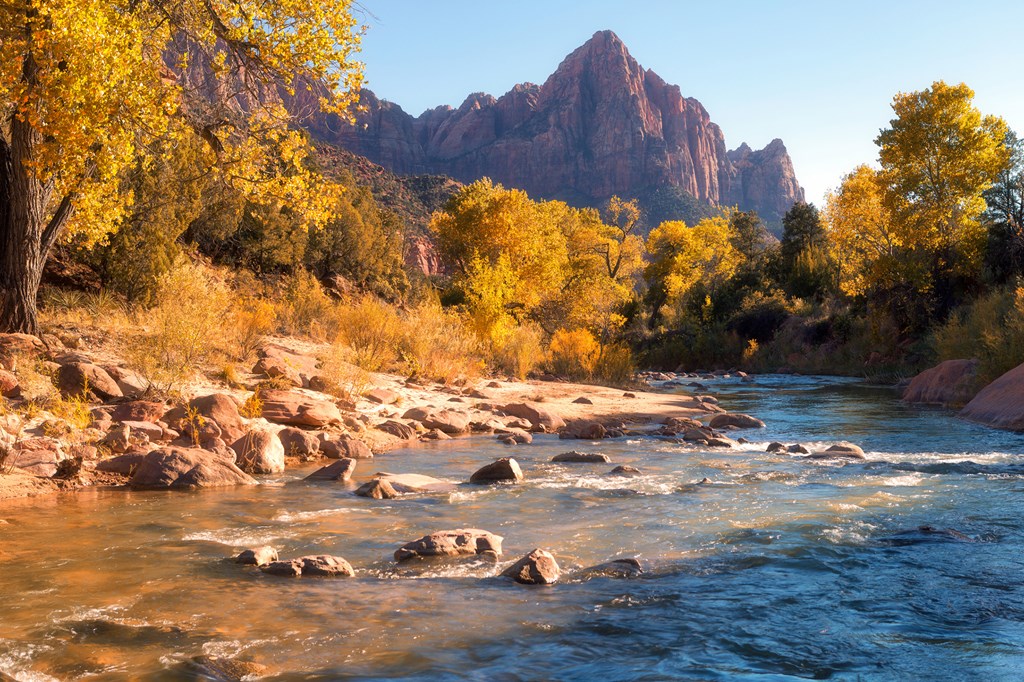 15. ZION NATIONAL PARK |UTAH
It can be argued that Zion National Park has some of the best views of any national park across the country, and Fall is no exception. One of the most popular parks, Zion in the Fall, offers winding rivers, stunning landscapes, and a color palette that's almost impossible to find anywhere else.
Thanks to cooler temperatures and smaller crowds, fall is a great time to visit. In October and November, brilliant blue skies enhance ivory and crimson sandstone cliffs dotted with yellow cottonwoods. A convenient shuttle picks up visitors in the nearby town of Springdale and takes them to various trailheads throughout the park.
The 15 national parks we've detailed in this guide are perfect for a Fall visit. Some offer spectacular foliage and mountain vistas; others a greater opportunity to see wildlife or the chance to camp and hike with fewer crowds. And some have all of the above! Whatever the reason, make it your goal to visit at least one national park this Fall.