It's no secret that the West is home to some pretty picturesque places. But its neighbor, the oft-overlooked Midwest, also boasts plenty of scenic spots capable of taking your breath away. Some sites are natural, others are man-made, but what they all have in common is how camera-worthy they are – whether you're taking a pic for your personal collection or for your Instagram followers. From a city filled with bridges and murals to a national park best seen by its scenic railroad, here are 11 of the most photogenic places in the Midwest.
1. EAU CLAIRE, WISCONSIN
Bridges make excellent photo subjects, and Eau Claire is home to not one, but nine, yes, nine, distinct foot bridges – including the colorful Phoenix Park Bridge illuminated by LED lights. They all span the Chippewa River that winds its way through the city. Some were originally built for the railroad and are nothing short of feats of engineering. With more than 50 sculptures, the city also boasts the second largest sculpture tour in the country. Mural-hopping downtown is also a must with its seemingly endless array of Insta-worthy art installations, many painted by talented local artists.
2. DEVIL'S KETTLE WATERFALL, MINNESOTA
Are there prettier waterfalls? Probably. But are there any more mysterious than Devil's Kettle Waterfall? Probably not. It's almost an optical illusion, one best caught on camera. Here, the roaring Brule River splits into two waterfalls – one of which plunges over the rockface in normal fashion. The other, however, seems to disappear into an underground hole. Where the water ends up has baffled dozens of scientists – some of whom have attempted to solve the mystery by tossing objects down the falls to see when, and if, they re-appear downstream. Spoiler alert: they don't. Still, according to this Vice article, the water doesn't mysteriously disappear.
3. WHITE RIVER STATE PARK, INDIANA
Think you have to go all the way to Venice to ride in an authentic Italian gondola in a surreal canal setting? Think again. In White River State Park – located in the heart of The Hoosier State's capital – Indy's scenic Central Canal comes alive with imported gondolas during the summer. You can also kayak and paddle board. Or, simply stroll the trails winding through these 250 acres of green space. Check out the 13 eye-catching sculptures – part of the Art in the Park program – or simply sit on a bench, surrounded by trees but with views of the city's impressive skyline.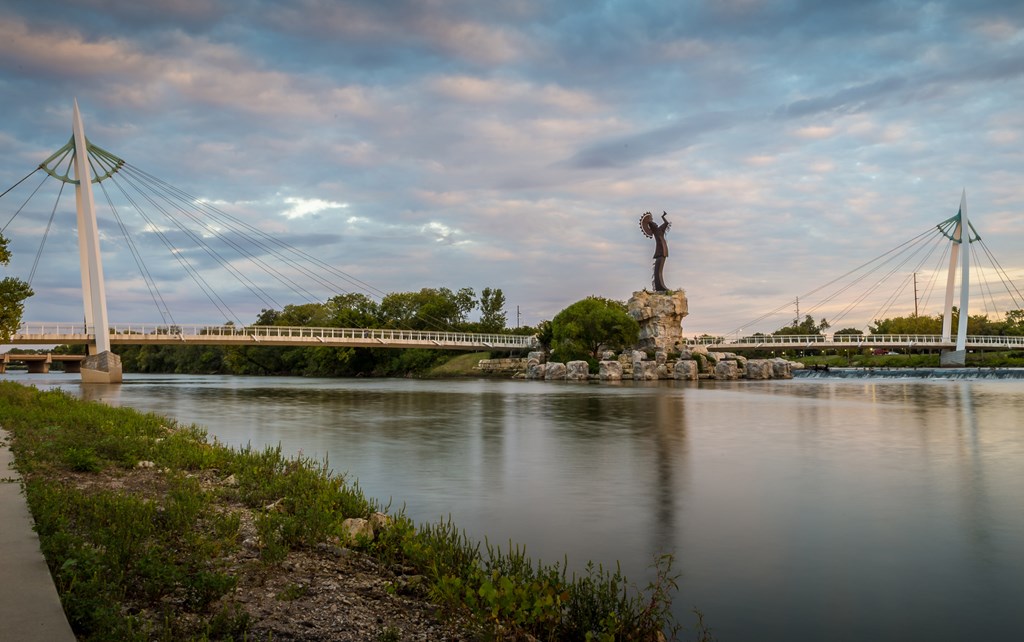 4. KEEPER OF THE PLAINS, KANSAS
It's hard not to be moved when taking in this imposing steel sculpture seemingly presiding over the confluence of the Big and Little Arkansas Rivers in Wichita. Designed by Blackbear Bosin, a prolific Native American artist, Keeper of the Plains stands at 44-feet-tall and weighs more than five tons. It represents the brotherhood of the different Native American plains tribes who live in the area. Visitors can access the sculpture via two suspended footbridges. Note: it's especially worth seeing at night when the Ring of Fire is lit, and the fire pots at the base of the sculpture burn for 15 consecutive minutes.
5. WINDMILL ISLAND GARDENS, MICHIGAN
Good news! You don't have to travel to Holland, Holland in order to photograph more than 125,000 tulips – in dozens of varieties – on the same day. Just join the tens of thousands of people in Holland, Michigan who visit Windmill Island Gardens  during its annual Tulip Time festival (May 7-May 15 this year). In July, thousands of annuals, in more than 80 varieties, and hundreds of perennials steal the show during Peak Bloom Week (July 24-30). Despite the explosion of color, the main focal point of the gardens is the 125-foot-tall working windmill, brought over from the Netherlands. Other photo opps include an original Amsterdam street organ, an antique Dutch carousel with hand-carved wooden horses and a Little Netherlands Village display. The gardens' 2022 season runs from April 18 through October 2, seven days a week.
6. CUYAHOGA VALLEY, OHIO
Ohio's only national park, and our nation's seventh most-visited, Cuyahoga Valley National Park welcomes more than two million visitors each year. "The winding Cuyahoga River gives way to deep forests, rolling hills and open farmlands," reads the National Park Service description of this 33,000-acre refuge just halfway between Cleveland and Akron. One of its most photographed sites is the 60-foot-tall bridal-veil Brandywine Falls, reached by a short hike through a scenic gorge. Perhaps the best way to photograph the park, however, is from the comfort of the Cuyahoga Valley Scenic Railroad. Yes, this National Park has a recreational railroad.
7. SUNKEN GARDENS, NEBRASKA
Deemed one of the "300 best gardens to visit in the U.S. and Canada" by National Geographic, this former dumpsite is a destination in itself if you're going anywhere near The Cornhusker State. With its thousands of tulips, annuals, perennials and a myriad of trees, it's a plant-lover's paradise. The gardens also feature artistic landscaping, sculptural elements and water features including a cascade and lily ponds complete with koi fish. The best part? Admission is free.
8. MOUNT RUSHMORE, SOUTH DAKOTA
Arguably one of the most iconic sites in the country, Mount Rushmore is recognized around the world even if most people can't point to the Black Hills on the map. In terms of rock art, it doesn't get more photogenic than these four famous faces carved into a granite canvas framed by pine trees and more often than not, South Dakota's signature blue skies. It's a memorable scene regardless of the time of day. But perhaps the best time to visit is at dusk to catch the evening lighting ceremony. (The people watching, especially during Sturgis in August, is also hard to beat.)
9. THEODORE ROOSEVELT NATIONAL PARK, NORTH DAKOTA
Don't be fooled by its name, the Badlands of North Dakota are surprisingly beautiful. It's here, in Theodore Roosevelt National Park, where the rugged rock features that seem imported from another planet, like Mars, meet mile after mile of rolling prairie. The park is split into two units. The North Unit has a scenic drive featuring 14 miles of dramatic views while the South Unit boasts a 36-mile picturesque loop popular with everyone from RVers to cyclists. Bison, elk, eagles and other wildlife sightings are common here.
10. AMANA COLONIES, IOWA
Bucolic is the best way to describe these seven rural farming villages – a National Historic Landmark – that have been welcoming curious visitors for more than a century. Visiting Amana Colonies is like traveling back in time, in Europe. The area was settled by German Pietists escaping persecution back in Germany. Here, in 1855 in east-central Iowa, they established one of the oldest surviving communal societies in the U.S. The villages feature unique, original architecture and countless gardens that still feed residents to this day. For the best photo subjects visit during one of the annual events which include the Festival of the Arts, Colonies in Bloom, Kinderfest, Winterfest and even Wurstfest.
11. ELEPHANT ROCKS STATE PARK, MISSOURI
Unusual is a good way to describe these massive elephant-esque boulders in southeast Missouri. They get their name from how they appear to resemble a train of elephants walking in the circus. What's great about Elephant Rocks State Park is you don't need 20/20 eyesight to appreciate it. There's a self-guided Braille Trail allowing visitors with disabilities to appreciate these 1.5-billion-year-old geological formations, many of which still feature the names of 19th century miners who couldn't resist carving into them.