RV ROAD TRIP ON I-40: TOP THINGS TO DO AND SEE
Are you thinking of taking your RV for a road trip along I-40? We've got the list for you! This iconic route has a rich history, starting as a wagon trail for settlers and gold miners, and mirrors the storied Historic Route 66. I-40 is America's third-longest interstate after I-80 and I-90. I-40 stretches for more than 2,500 miles from coast to coast, covering eight states and many different cities along the way, like Nashville, Memphis, Amarillo, Oklahoma City, Little Rock and Raleigh.
What's interesting about I-40 is its deep history in America. This east-west route mirrors some of the original wagon trails for gold seekers and settlers moving west. This interstate also served as a replacement for the famous Route 66 from Oklahoma to California. Today's I-40 overlaps the old Route 66 in some portions, and runs parallel in others. The animated movie Cars famously depicted the replacement of Route 66 with the new I-40, with its fictional town, Radiator Springs, situated along this route.
If you're considering an RV road trip along this well-traveled American highway, this is the guide for you. This route has a little bit of something for everyone, no matter what your interests are. Get on the road for some classic Americana culture and history, with so many cultural and sightseeing opportunities. Take a trip with us on I-40 and explore everything it has to offer.
OUR FAVORITE THINGS TO DO ALONG I-40 ON A ROAD TRIP
With so much to see and do along the way, I-40 is a popular road-tripping route. It's an iconic way to see the country while you travel from one coast to the other. While you can start at any point, for this guide, we'll begin on the East Coast, in North Carolina, and make our way west toward California.
Plan the best RV road trip across America with stops and attractions that all ages will enjoy. For a Route 40 road trip, here are some of the top recommended attractions and things to do along the way, state by state.
1. ROAD TRIP TO WILMINGTON, N.C.
From the East Coast, you'll start your I-40 road trip in the beautiful city of Wilmington, N.C, where I-40 begins near the coastline. Begin your journey with some adventures here, like the beaches, boardwalk and Wilmington's many museums, parks, gardens and shops. If you're looking to enjoy the ocean and relax near the water, visit the beach and the famous Carolina Beach Boardwalk along the coast. The city is also home to several excellent museums to check out — whether you want to see fine art, historical exhibits or something for the kids, there's a museum for you. The Jungle Rapids Family Fun Park is a favorite for families, with its water slides, pools and other fun activities like mini-golf and go-karts. With its abundant parks, gardens, shopping and restaurants, Wilmington makes a great first stop on your I-40 adventure!
2. ROAD TRIP TO CHIMNEY ROCK STATE PARK, N.C.
A little farther east in North Carolina is Chimney Rock State Park, one of North Carolina's most beautiful parks. If you love nature and scenic views, this stop is a must-see. Here, you can enjoy the gorgeous Blue Ridge Mountain scenery while hiking the miles of trails available. Climb to the top of Exclamation Point for the best view in the state. And if you can't make the climb, there's a hidden elevator inside the rock tower, so you don't have to miss out on the scenic viewpoint. You can also experience rock climbing, cave exploring, waterfalls, special events and activities. Plan a picnic or grab a bite to eat at the on-site cafe.
3. GRAND OLE OPRY AND NASHVILLE, TENN.
Next up is Tennessee, the state with the longest stretch of I-40. Start in East Tennessee by driving through the Great Smoky Mountains, which provide gorgeous vistas year-round. If you like country music, Nashville is a must-see city. Known as Music City, Nashville is home to the famous Grand Ole Opry. The Opry started as a simple radio show, and is now one of our nation's best-known music venues. Catch a live concert here, or get a behind-the-scenes tour during the day. Even if you're not a country music fan, you can find all genres of music in Nashville. Lower Broadway features live music venues where you can catch up-and-coming musicians performing at all hours of the day and late into the night. While you're here, enjoy the Southern hospitality and cooking at one of the many restaurants in the Nashville area.
4. ROAD TRIP TO GRACELAND AND MEMPHIS, TENN.
Memphis is another Tennessee hotbed for live music and Southern culture. If blues is more your style, Memphis is the place to be. The famous Beale Street has abundant blues clubs, theaters, nightclubs, barbecue restaurants and more, including B.B. King's Blues Club. Stroll around this historic area of downtown Memphis, enjoying the history and music. And for fans of Elvis, the King of Rock and Roll's home, Graceland, is nearby. The private residence is now open for tours and shows many of Presley's belongings in a museum-like setting. You can tour the home and see many of his awards and memorabilia, then pay tribute at his gravesite, located on the grounds.
5. HOT SPRINGS NATIONAL PARK, ARK.
In Arkansas, you can visit the capital city of Little Rock for its rich history and culture, with several museums, parks and other stops. But in this state, the parks truly take center stage as some of the best stops along this portion of I-40. Located in Arkansas, near President Bill Clinton's hometown, is Hot Springs National Park. This unique park protects a geological structure that produces natural hot springs of incredibly high quality. The surrounding parks are full of rich history and beautiful landscapes to explore. You can hike through the forests and enjoy the mountain views, take in the historic exhibits at the visitors' center or enjoy the spa-like historic bathhouses for yourself. Several indoor bathhouse facilities are still in use and offer modern spa treatments and services. Bathe in the clean, warm waters and experience modern spa amenities here, along with historical learning opportunities and beautiful hiking trails.
6. CRATER OF DIAMONDS STATE PARK, ARK.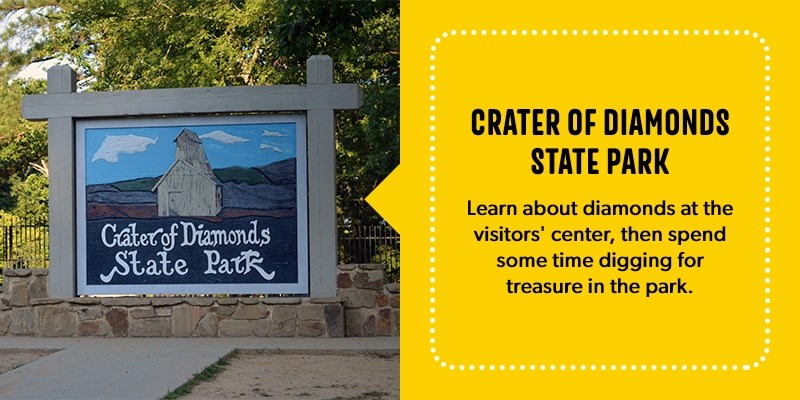 Another popular Arkansas I-40 stop is Crater of Diamonds State Park. This unique attraction features an extinct volcanic crater that is open to the public and known for its fascinating gemstones, minerals and rocks — even precious stones like diamonds. And you can keep whatever you find during your visit! Learn about diamonds at the visitors' center, then spend some time digging for treasure in the park. You can also explore the hiking trails, enjoy a picnic lunch or visit the Diamond Springs Water Park. This site is one I-40 stop you won't want to miss.
7. ROAD TRIP TO OKLAHOMA CITY, OKLA.
Next up on your Route 40 RV road trip is Oklahoma's busy capital, Oklahoma City. Museum-lovers will appreciate everything this city has to offer — with an art museum, science museum and history museum, plus the more specialized National Cowboy and Western Heritage Museum and American Banjo Museum, OKC has a lot to take in here. An arts district, delightful restaurants and lots more to do in this city make it an excellent place to stop. Explore downtown Oklahoma City and the Bricktown area by attending an NBA game with the Thunder or a minor league baseball game with the Oklahoma City Dodgers. Another must-see in this city is the Oklahoma City National Memorial, where you can learn about the infamous 1995 bombing tragedy. Visit the museum and outdoor memorial, featuring 168 empty chairs dedicated to the bombing victims. The outdoor memorial is a beautiful place to reflect and honor those who lost their lives here.
8. CADILLAC RANCH, TEXAS
Even though Texas is huge, Interstate 40 only travels through the Lone Star State's upper portion for one of the shorter jaunts of this road trip. However, you can still experience plenty of big Texas style on this short leg. In the Panhandle, you'll pass through the city of Amarillo, which offers some iconic views and culture of Texas. One of the best-known Route 40 stops in Texas is Cadillac Ranch, which features a row of real Cadillac cars buried nose-first into the dirt. What was originally an art project showing the car's tail fin evolution has evolved into a fun photo op where graffiti is not only allowed, but encouraged. Bring a can of spray paint to leave your mark at this unique roadside attraction.
9. PALO DURO CANYON STATE PARK, TEXAS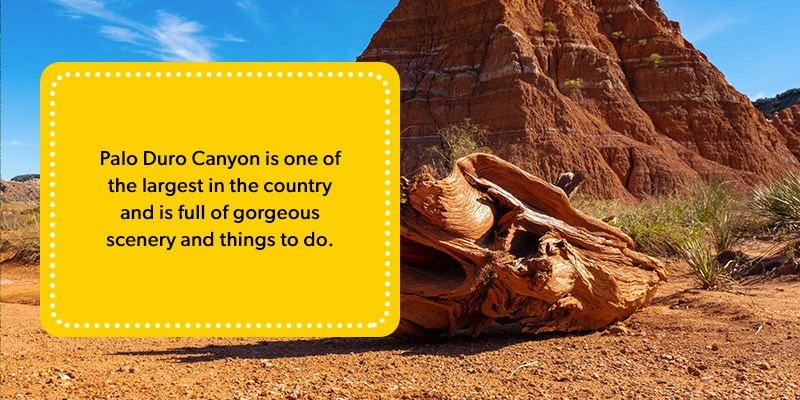 Known as the Grand Canyon of Texas, Palo Duro Canyon is one of the largest in the country and is full of gorgeous scenery and things to do. Hike the miles of park trails while you enjoy the views around the beautiful canyon. Visit the small visitors' center for information and opportunities, or enjoy nature watching at Palo Duro Canyon State Park. Opportunities for biking, horseback riding and more are also available, and during the summer, you can catch a performance of TEXAS Outdoor Musical here at the park. It's a family-friendly production full of music, fun and humor.
10. ROAD TRIP TO TEE PEE CURIOS, N.M.
In New Mexico, you're sure to see lots of classic, retro Route 66-style attractions, such as Tee Pee Curios. The concrete teepee in front of the building radiates vintage aesthetics. At this quirky stop, you'll find goofy souvenirs alongside authentic local Native American artwork. It's also a great photo op location — if you can, stay after dark to see all the classic neon signs in the surrounding area of Tucumcari!
11. BLUE HOLE OF SANTA ROSA, N.M.
Another unforgettable stop is the Blue Hole in Santa Rosa — a natural lake and swimming hole that's so clear and bright blue, you've got to see it to believe it. Like an oasis in the desert, the Blue Hole of Santa Rosa provides a welcome watery respite for travelers driving west along I-40. People travel for miles to see this watering hole and take a swim. Enjoy swimming, cliff jumping, diving, snorkeling and scuba diving at this fun I-40 attraction.
12. ROAD TRIP TO ALBUQUERQUE, N.M.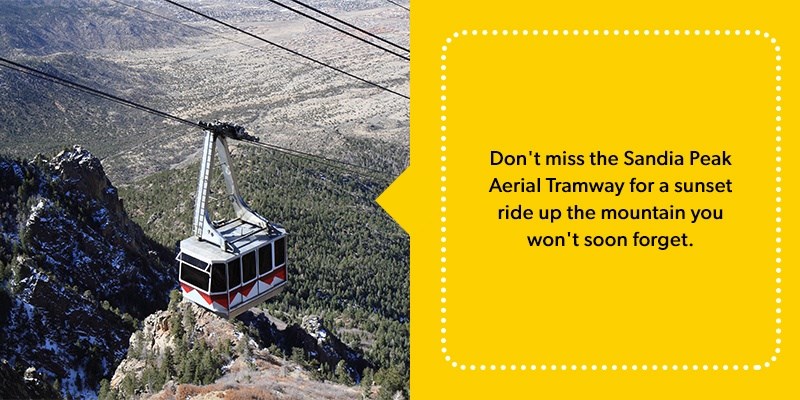 The next major city along I-40 road trip route is Albuquerque, N.M., and it has no shortage of fascinating things to do and see. This colorful Southwestern town is famous for its artsy vibe, annual hot air balloon festival and as the setting for the gritty AMC drama Breaking Bad. Alongside lots of shopping, world-class museums and tasty regional cuisine, you'll find many other activities to try. Don't miss the Sandia Peak Aerial Tramway for a sunset ride up the mountain you won't soon forget. The entire trip takes around 15 minutes, and you'll thank yourself for stopping at this unique attraction. Enjoy seeing three miles of mountains as you make your way to the Sandia Peak of the Cibola National Forest.
13. FLAGSTAFF AND SEDONA, ARIZ.
Interstate 40 passes through Flagstaff, Ariz., where you'll see lots of historic charm, incredibly scenic natural views and all the modern perks of a larger city. Explore the museums here or stop by the Lowell Observatory to learn more about astronomy in an International Dark Sky City. At the Lowell Observatory, you can get an awe-inspiring view of the stars with minimal light pollution. From Flagstaff, you could choose to take a detour off I-40 to see either Sedona or the Grand Canyon — both only a short drive off the main freeway. The Grand Canyon is a must-see if you have the opportunity to explore. And Sedona is an Arizona town full of quirky art, majestic geological formations and New Age healing.
14. METEOR CRATER IN WINSLOW, ARIZ.
After you explore Flagstaff, travel a bit outside of the city to find one of the weirdest attractions along Interstate 40. Arizona's Meteor Crater is one of the world's best-preserved meteor impact sites. This fascinating site measures 550 feet deep, a mile across and around 2.5 miles in circumference. You can stop by to snap a few photos before continuing on your journey, or choose to visit the museum. The small museum features a theater, interactive displays and exhibits that explain the events of the asteroid that made an impact with Earth around 50,000 years ago.
15. PETRIFIED FOREST NATIONAL PARK, ARIZ.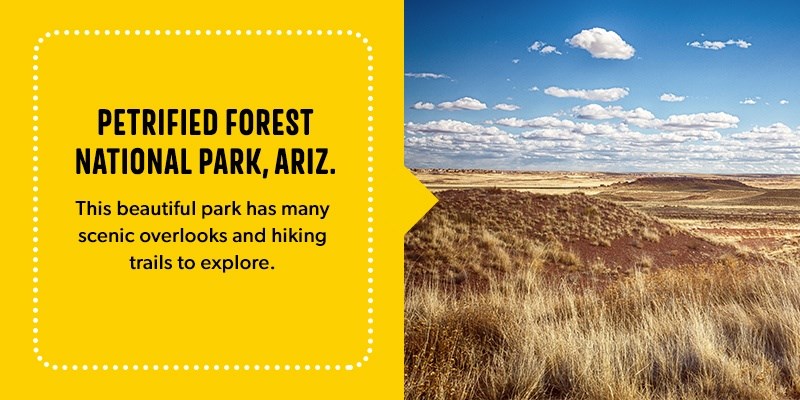 One of the best things to see along I-40 is a Route 66 classic — Petrified Forest National Park in Arizona. This beautiful park has many scenic overlooks and hiking trails to explore. But the real star of the show is the glittery petrified wood, which comes from fossilized redwood trees. These trees lived in the area more than 225 million years ago, and make for a stunning geological display today. You can also see the Painted Desert, the Rainbow Forest, the Agate House and more. It's a fantastic park for anyone who loves nature and geology.
16. CALICO GHOST TOWN REGIONAL PARK, CALIF.
Ghost towns are all over the western U.S. and make for a seminal stop that's reminiscent of the historic Route 66. Calico Ghost Town in California is one of the best examples of these ghost towns. Calico was once a booming mining town, but its residents mostly abandoned it when silver lost value. The town is now a regional park with restored buildings, a museum and plenty of historic charm. You'll also find shops, restaurants and a train you can ride, plus hiking trails and other fun activities.
17. BARSTOW, CALIF.
I-40's western end is in the charming small town of Barstow, Calif., and just like the last few stops, this town oozes with retro Route 66 style.Interestingly enough, I-40 doesn't make it all the way to the West Coast, but if you wish, you can continue on Highway 15 to head toward Los Angeles and the Pacific Ocean. Or, you can stop in Barstow and enjoy this town. A massive rest stop here provides all the modern conveniences you might need. And you can stop by the Route 66 "Mother Road" Museum and the Western American Railroad Museum to learn more about the area's history.
Related: 22 Places You Need to Visit in 2022